Ever since SFW XIV you have been asking, you have been wondering…and now we can reveal that he's back…yes, we welcome back the awesome IAN MCNEICE – by popular demand!!
IAN MCNEICE has appeared in film, television and theatre extensively, appearing in many popular shows. His television breakthrough was as Harcourt in the award-winning series Edge of Darkness. He played the alcoholic sous chef Gustave La Roche on the television series Chef! and went on to appear in the 2000 miniseries Frank Herbert's Dune as the evil Baron Vladimir Harkonnen. His television appearances have included playing Bert Large in all nine series of Doc Martin. On the big screen, he has appeared in 84 Charing Cross Road,  Day of the Dead, No Escape,  From Hell and The Englishman Who Went Up a Hill But Came Down a Mountain. His breakthrough into American film came with Ace Ventura: When Nature Calls. He played the Nazi Gerhard Klopfer in Conspiracy and has appeared in Around the World in 80 Days and the 2005 supernatural thriller White Noise. He even appeared as Potiphar in Joseph and the Amazing Technicolor Dreamcoat. More recently he was in The Man who invented Christmas and played Winston Churchill in four episodes of Doctor Who. He played Cardinal Wolesley at Shakespeare's Globe Theatre in Henry VIII. Ian will be joining us for more laughs and panels, and of course, he insists that he be included in 'Just a Minute' again…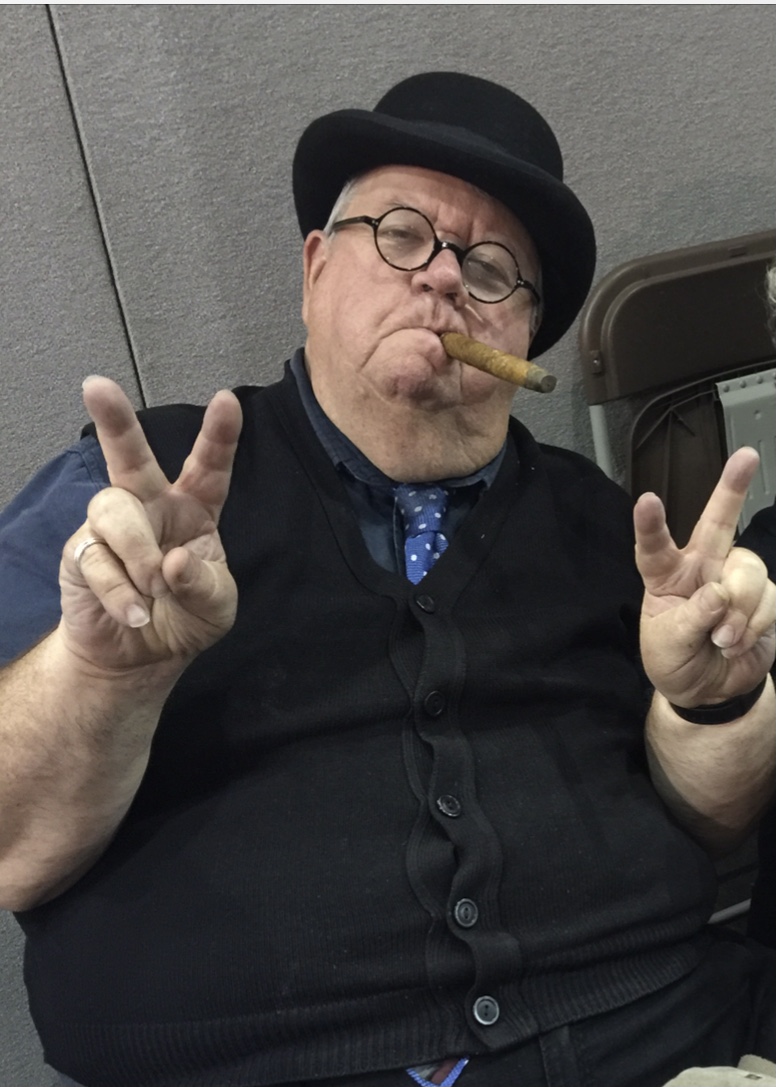 As well as Media and Author guest Panels there will be some new features – here's a taster of the daytime programme:
MAIN VOID:
Black Mirror Panel.
Artists panel featuring SF/Fantasy/Horror Artists JIM BURNS and GRAHAM HUMPHRIES
DARREN SHAN returns to delight us with more horror tales and to talk about his career.
SARAH PINBOROUGH will be sharing her insights about page to screen with SAMANTHA LEE HOWE and interviewer TIM RIDEOUT, and talking about her amazing career as an author and screenwriter with Interviewer, IAIN SHAW.
Bookouture Fantasy writers, GN GUDGEON, BEN ALDERSON and RS MOULES – join us for the first time for panels and readings.
Media Guest interviews with MICHAEL TROUGHTON and IAN MCNEICE with more to be added.
Panels on horror, crime, thrills, fantasy, SF and more …
Ending the day with a JUST A MINUTE showdown, featuring Sarah Pinborough, Ian McNeice, Michael Troughton, reigning champ Bryony Pearce and, of course, stunningly jacketed host David J Howe.
Also in the Main void: Author Central with Author Signings, Media Guest tables and VIP signings.
SPACEPORT:
Author interviews.
TELOS will be launching RAVEN DANE's new novella THE DRWG STONES and MAXIM JAKUBOWSKI's dark thriller JUST A GIRL WITH A GUN as well as his amazing sensual, fantasy novel PIPER'S DANCE.
DIY PODCASTING: Join the SFW Troopers for a workshop. How to make a start, how to record, do you need an expensive setup and how to get your work out there. With Iain Shaw, Elliot Byers and James King
There will be a programmed Children's Movie slot Friday and Saturday evenings in Spaceport 4.30pm-6pm. (Perfect downtime before supper)
BEHIND THE SOFA – Fan Panel with Ian Shaw, James King and Elliot Byers
Adult triple film bill 8pm until late Friday and Saturday. (Chill with our movie triple bill each night – poll for a choice of movies coming soon!)
As well as: Writer panels, cosplay preliminaries and Pop Up Puppet Cinema!!
TIMEPORT:  in the Games Room Bar:
MEET N GREETS
We see the return of board games between 12.45pm and 3.45 pm Friday and Saturday with GAVIN JONES.
CREATING A SCI-FI WORLD – Join author and mentor, BRYONY PEARCE for a writing workshop. Bring paper and pen (or your favourite writing tech!)
AUTHOR READINGS on Saturday 4-5pm.
EVENING ENTERTAINMENT will see the return of:
The fabulous SFW AWARDS, the IMAGINARIUM, ADAM'S BIG FAT QUIZ, PROFESSOR ELEMENTAL, JOHN ROBERTSON, MADAM MISFIT, POP UP PUPPET CINEMA, DJs and loads more!
As usual this far ahead of the actual show, we do need to caveat that anything and everything could change … guests can drop out, events change, timings change … and so on. We hope everyone understands!  But this hopefully gives a sense and a feel of what we're looking to deliver come March …
We hope you'll want to be with us as we celebrate 15 years of the world's most entertaining Geek Festival … with Media Guests, Authors, Artists, Editors, Entertainers … all lined up to make this the most spectaculant (thank you Tilly) SFW ever!
Full details, including how to book etc: https://mailchi.mp/chicfestivals.com/sfw15guestannouncementseptember2023