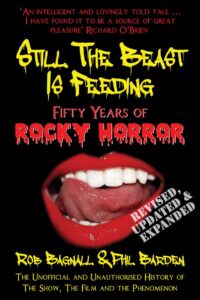 Coming in May from Telos Publishing is a new edition of the acclaimed book STILL THE BEAST IS FEEDING: FIFTY YEARS OF ROCKY HORROR … extensively updated by the authors for the fiftieth anniversary of THE ROCKY HORROR SHOW, the book's initial release will include a 64 page full colour photo section …
Now available to pre-order from Telos Publishing.
https://telos.co.uk/shop/other-non-fiction/music/still-the-beast-is-feeding-guide-to-rocky-horror-fifty/
510pp approx. 6×9 paperback book.
ISBN 978-1-84583-224-7 (pb)
'An intelligent and lovingly told tale … I have found it to be a source of great pleasure' Richard O'Brien speaking about the book.
'A labour of love by the two authors, given the depth and breadth of knowledge contained within' Charles Packer, Sci-Fi Online (10/10)
'Superb' James Whittington, Horrorxtra
'Fantastic book. Full of facts and information. A must for any Rocky fan.' Cathy, Amazon review
'A VERY extensive book on the history of The Rocky Horror Show, and The Rocky Horror Picture Show … It contains little known facts and trivia, even for those who are very knowledgeable about the show/film. Check it out, and antici…pate great things!' Alex, Amazon review
'Informative, anecdotal and filled with a lot of love for Rocky, it's perfect for any fan.' L J Valentine, Goodreads
'Beautifully researched and thoroughly entertaining. The book is full of droll anecdotes and witticisms, cleverly woven into a succinct and informative writing style. With as much (if not more) pastiche and cultural reference as it's beloved subject, Still The Beast is Feeding is not so much a companion, but more of a frequent lover to all things Rocky Horror.' Kieran Kimberley, Goodreads