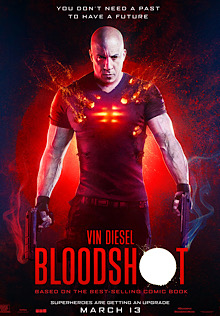 This Vin Diesel film is new on Prime and new to me … it's a science fiction tale, but starts as though it's a straight thriller.
Diesel plays a soldier, Ray Garrison, out in combat, and he ends up kidnapped by the bad guy, who then kills his wife in order to try and make him talk … but Diesel knows nothing so gets shot in the head for his trouble …
But then, we discover that Diesel's body has been taken for scientific research and he's been given a hefty dose of nanobots which have repaired his body, and which make him superstrong and almost unstoppable …
So what does he do? He heads off to find the guy who killed his wife to extract his revenge …
To say more would be to spoil the film and to give away some of the twists … needless to say it's not straighforward! It is, however, a hugely enjoyable action thriller of the type that Diesel does really well … if you remember him in the excellent Pitch Black and XXX then this is more of the same!
The film also stars Talulah Riley as his wife Gina, and Eiza González as KT. The main protagonist is Guy Pierce as Dr Emil Harting, but there are strong performances from Sam Heughan and Lamorne Morris as well.
A very enjoyable evening's entertainment!  Recommended!
David J Howe