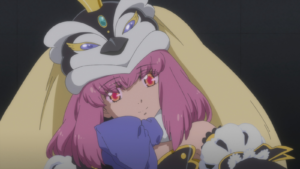 Celebrate the supernatural suspense of legendary director Kunihiko Ikuhara (Sailor Moon and Revolutionary Girl Utena) with an Odeon exclusive double-bill event on 20th May 2023.
Glasgow, UK, 10 May 2023 – Anime Limited are inviting you to flashback to an acclaimed story from one of anime's most influential auteurs with a double-bill event release for Re:Cycle of the Penguindrum, a two-part re-imagining that brings all of the series' trademark avant garde visuals, gripping terrorist plots, and of course penguins to the big screen. Showing exclusively at Odeon Cinemas for one-day only on 20th May 2023, attendees will be welcomed with a pre-recorded special introduction by the director and cast, and will also each receive an exclusive A6 exclusive postcard featuring artwork from the film.
Created by the legendary director Kunihiko Ikuhara (Sailor Moon, Revolutionary Girl Utena) as a reimagining of his 2011 television series Mawaru Penguindrum, this feature film duology tells the story of Syoma and Kamba, two brothers who must challenge the very concept of destiny when their terminally ill sister Himari dies, only to be revived by a penguin hat that demands they find the mysterious "Penguindrum". However, their search throws Syoma and Kamba into a weird web of obsessed stalkers, a terrorist plot inspired by the horrors of the 1995 Tokyo subway sarin attack, and the cursed fate that ties them all together.
WATCH THE TRAILER
Blending Ikuhara's complex character writing with trademark surreal imagery that takes cues from more arthouse avenues of cinema, the original series marked a triumphant return to anime for the director. Crowdfunded by fans in Japan in commemoration of its 10th Anniversary, Re:Cycle of the Penguindrum finds a new place of destiny on the big screen that affirms Ikuhara as a creative tour de force. Whether you're already a fan looking to celebrate Ikuhara on the big screen, or discovering his works for the very first time, you won't want to miss Re:Cycle of the Penguindrum!
Synopsis:
This is a story about certain siblings, suddenly-appeared penguins, and the past and the future of this world…
The Takakura brothers, Kamba and Syoma, search for PENGUINDRUM by order of a mysterious penguin-shaped hat to save their ill sister Himari.
Ringo Oginome keeps realizing that her destiny has been written in a diary.
Masako Natsume tries to get her hands on Ringo's diary to find her new destiny.
Keijyu Tabuki and Yuri Tokikago attempt to get back their precious person of fate.
All seek the PENGUINDRUM for their own sake and that of someone dear to them.
Ten years later…
Kamba and Syoma, who rode the train to change fate, momentarily come back from the place their fate took them…
Re:Cycle of the Penguindrum – Part 1 Your Train Is the Survival Tactic and Re:Cycle of the Penguindrum – Part 2 I Love You are released exclusively in Odeon Cinemas as a double-bill showing for one-day only on 20th May 2023. The films will be shown in Japanese with English subtitles, with a 10 minute intermission in-between.