Unmissable martial arts classics are back in UK cinemas to celebrate release of the essential Arrow Video Bruce Lee Blu-ray UHD box set
Prepare for a feast of pristine big screen martial arts mayhem like you've never seen before! To celebrate the upcoming release of the Bruce Lee at Golden Harvest box set (released 17th July), Arrow Video's definitive collection of beautifully restored martial arts classics, the films are being shown in UK cinemas (from Manchester to Glasgow and Belfast to Bradford) from June 2nd (limited previews from 31st May) throughout June and July.
When former child actor and Hollywood TV sidekick Bruce Lee returned to his native Hong Kong in 1971 to star in two films for fledgling company Golden Harvest, movie history was made thanks to one of the most iconic partnerships between star and studio that cinema has ever seen. In only a handful of films, Lee high-kicked his way into audiences' imaginations forever, thanks to his blistering screen presence and his masterful 'Jeet Kune Do' fighting technique. The Big Boss, Fist of Fury, The Way of the Dragon, Game of Death and Game of Death II are the ultimate tribute to the legendary Bruce Lee's enduring legacy, and a must-see for action fans.
The Big Boss (1971)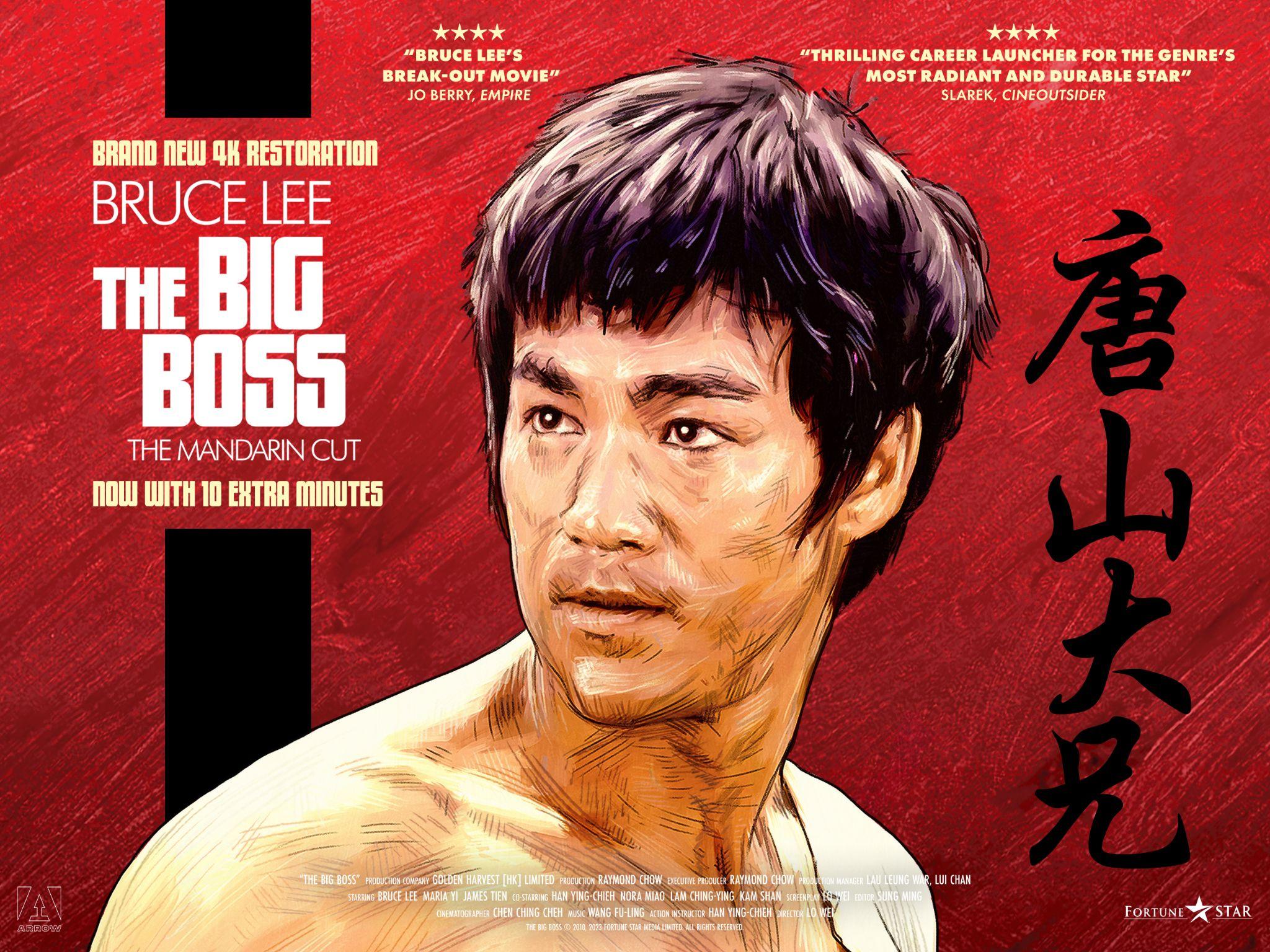 Cheng Chao-on (Lee) moves to Thailand to work at a factory alongside his uncle and cousins. However, a ruthless crime boss (Han Ying-chieh, Come Drink with Me) and his gang are using the factory to smuggle dope, and whoever stumbles upon this unfortunate secret promptly meets a grisly end. When some of Cheng's friends and cousins disappear, he is forced to set aside the vow of pacifism he made to his mother and unleash his fists of fury in order to bring those responsible to bloody justice…
Fist of Fury (1972)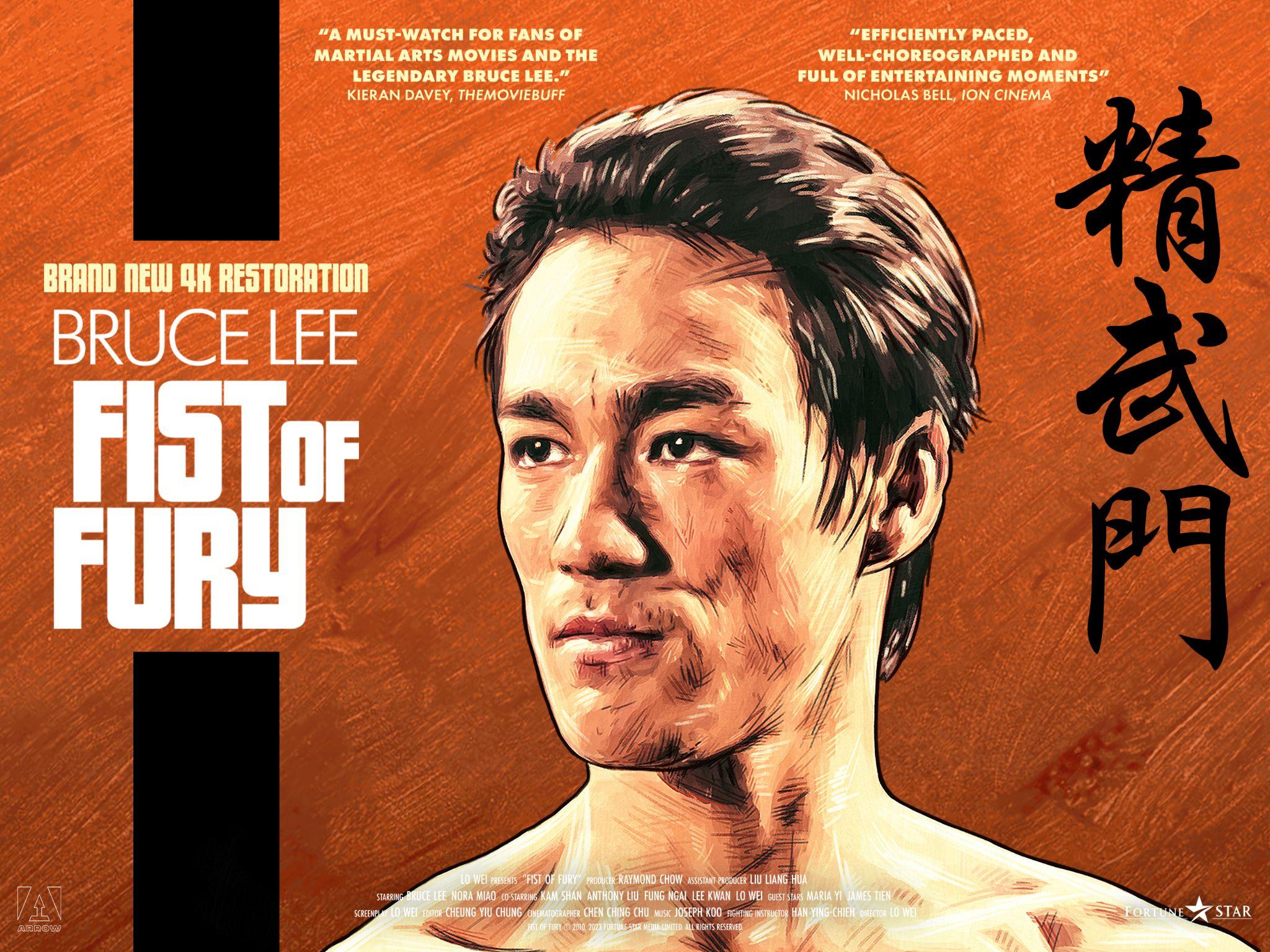 Shanghai, 1910. Chen (Lee) returns from study abroad to find that his beloved martial arts teacher has died under mysterious circumstances. Chen immediately suspects members of a rival Japanese dojo, who bully his fellow students and denigrate the Chinese at every turn. Revenge on his mind, Chen starts a one-man war on the Japanese, making him public enemy number one – and he won't go down without a fight!
The Way of the Dragon (1972)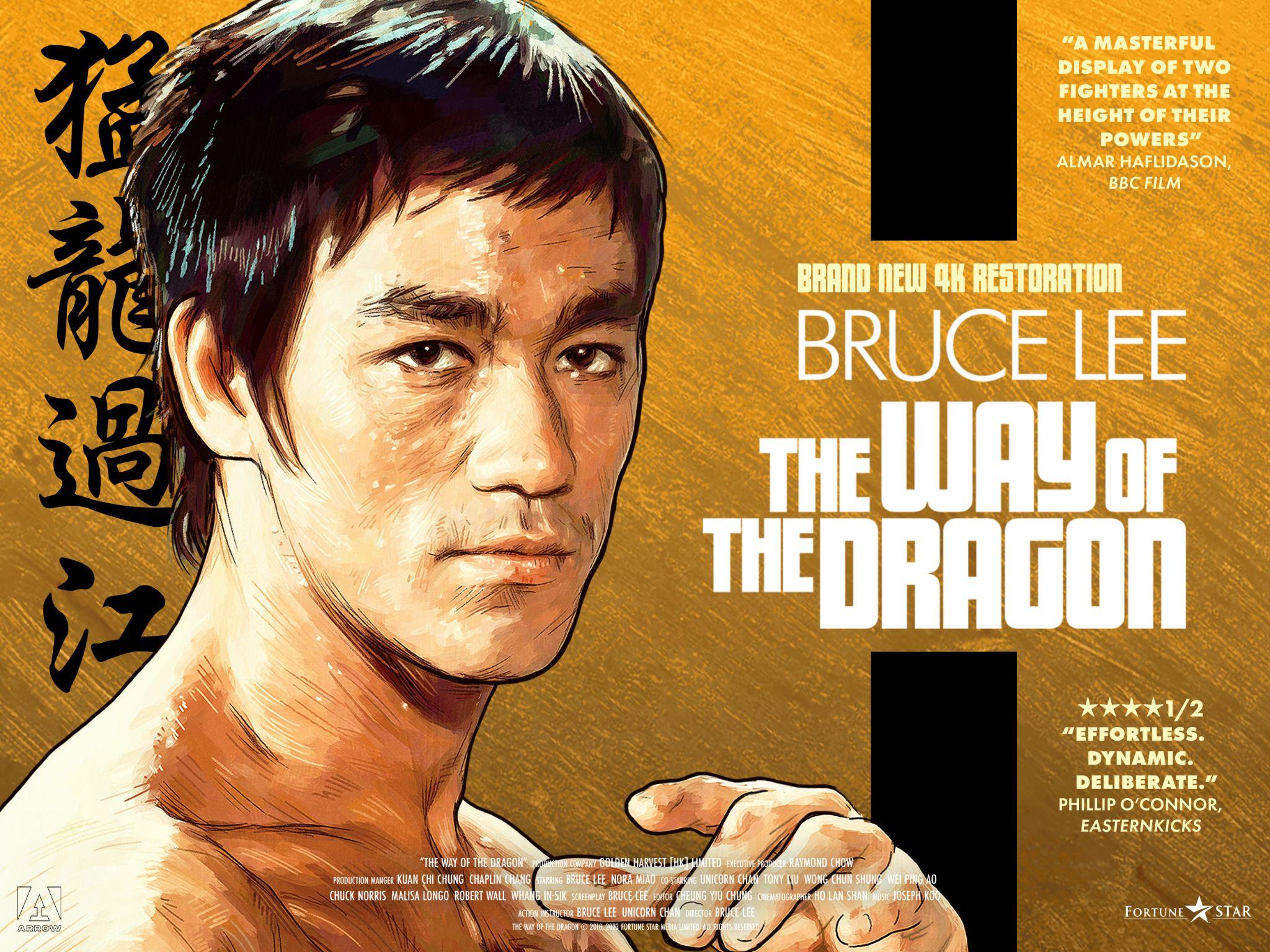 Tang Lung (Lee) is a naïve country boy from Hong Kong who is shipped off to sunny Rome in order to assist a family friend whose Chinese restaurant is under threat from a local gangster. Training the waiters in self-defence while taking on Italian thugs single-handedly, the gangster decides to retaliate by flying in some of the best fighters from America (including Colt, played by Chuck Norris) and Japan to take Tang down. Soon the columns of the Colosseum will rumble with the sound of Tang Lung's fury!
Game of Death (1978)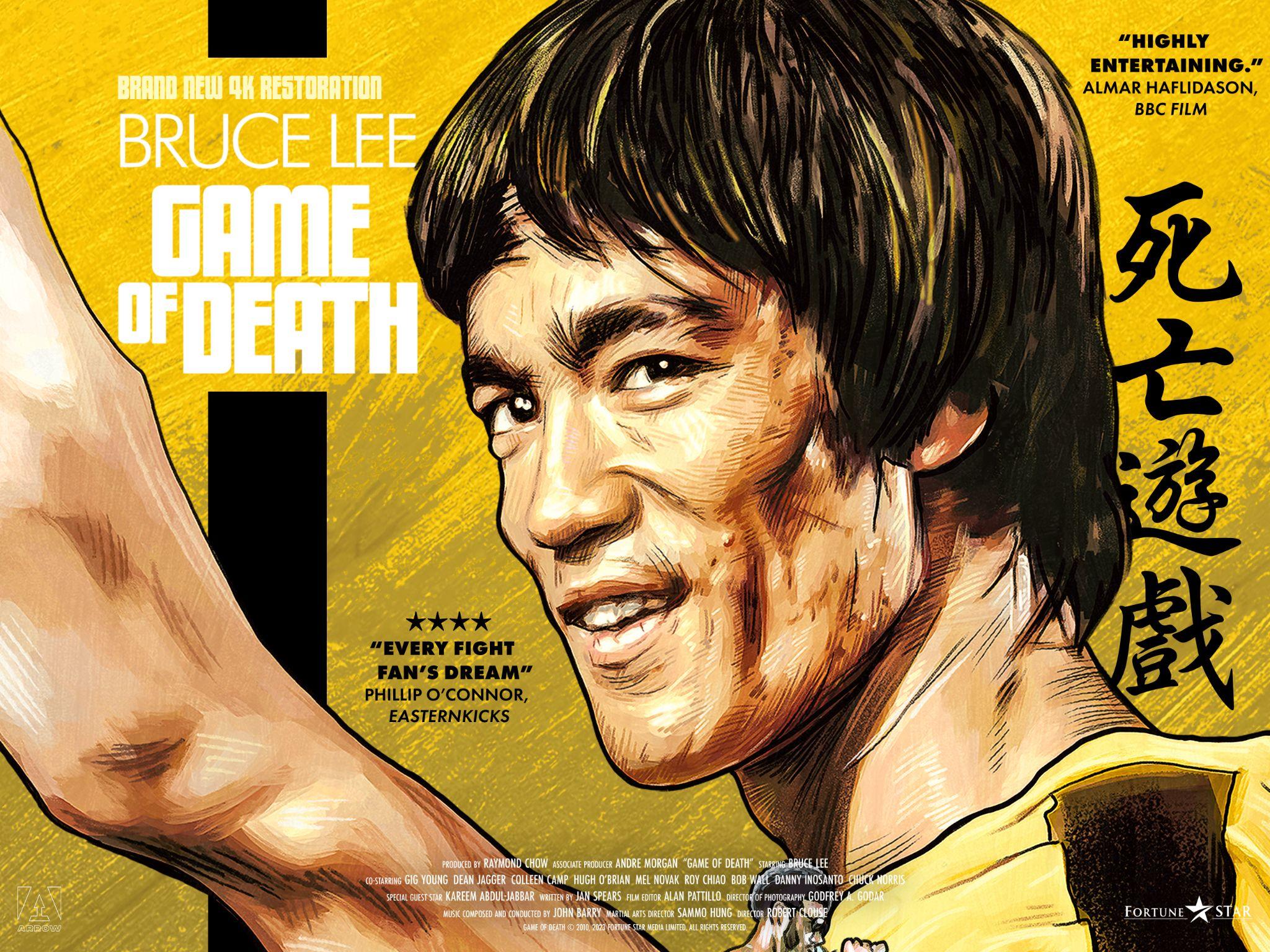 Billy Lo (Lee) is a kung fu superstar in the Hong Kong film industry whose happy life with his girlfriend Ann (Colleen Camp) is being intruded upon by a threatening group of American gangsters led by Dr. Land (Dean Jagger) and henchman Steiner (Hugh O'Brian), intent on bringing Billy under their control. When Billy refuses, their lethal response sets about a chain of events where a disguised Billy turns the tables on the syndicate, fighting his way through the city for his and Ann's freedom.
Game of Death II (1981)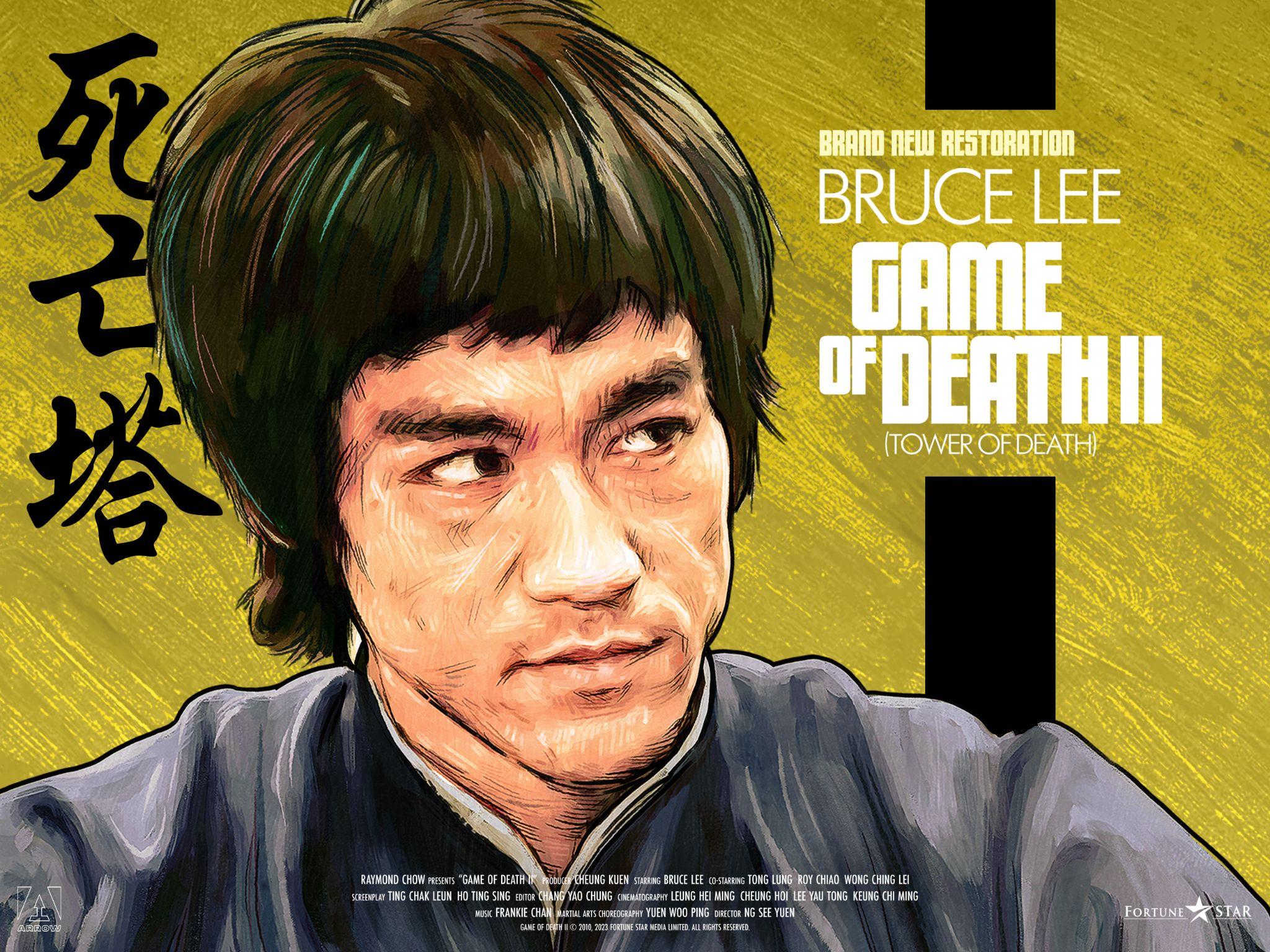 When his friend Chin Ko (Hwang Jang-lee, Drunken Master) dies under mysterious circumstances, Billy Lo (Lee) suspects his life may be in danger next. After tragedy strikes once more, Billy's brother Bobby (Kim Tai-chung, Game of Death) is drawn into the ensuing investigation, which involves a secluded Korean temple run by martial arts madmen, underneath which is rumoured to be an underground fortress known as the Tower of Death. Soon, Bobby will need to use all the skills his brother has taught him in order to survive!
The box set – featuring exclusive 4K restorations by Arrow Video, hours of brand new bonus features and previously unreleased footage – is available from 17th July on Limited Edition 4K UHD, Limited Edition Blu-ray (and a Limited Edition Arrow Store exclusive only available from Arrow Video), and contains a hardbound book, lobby cards, photos and much more.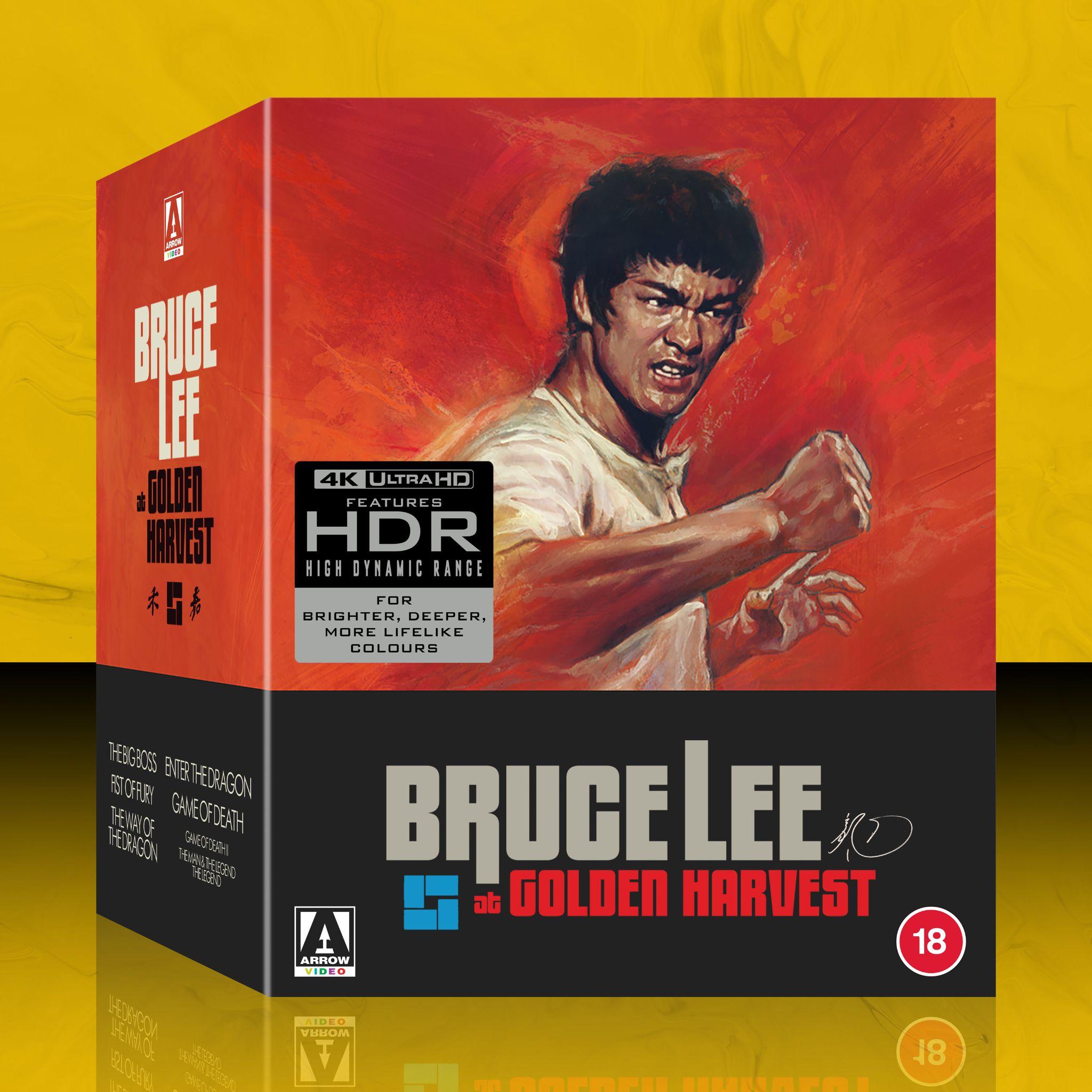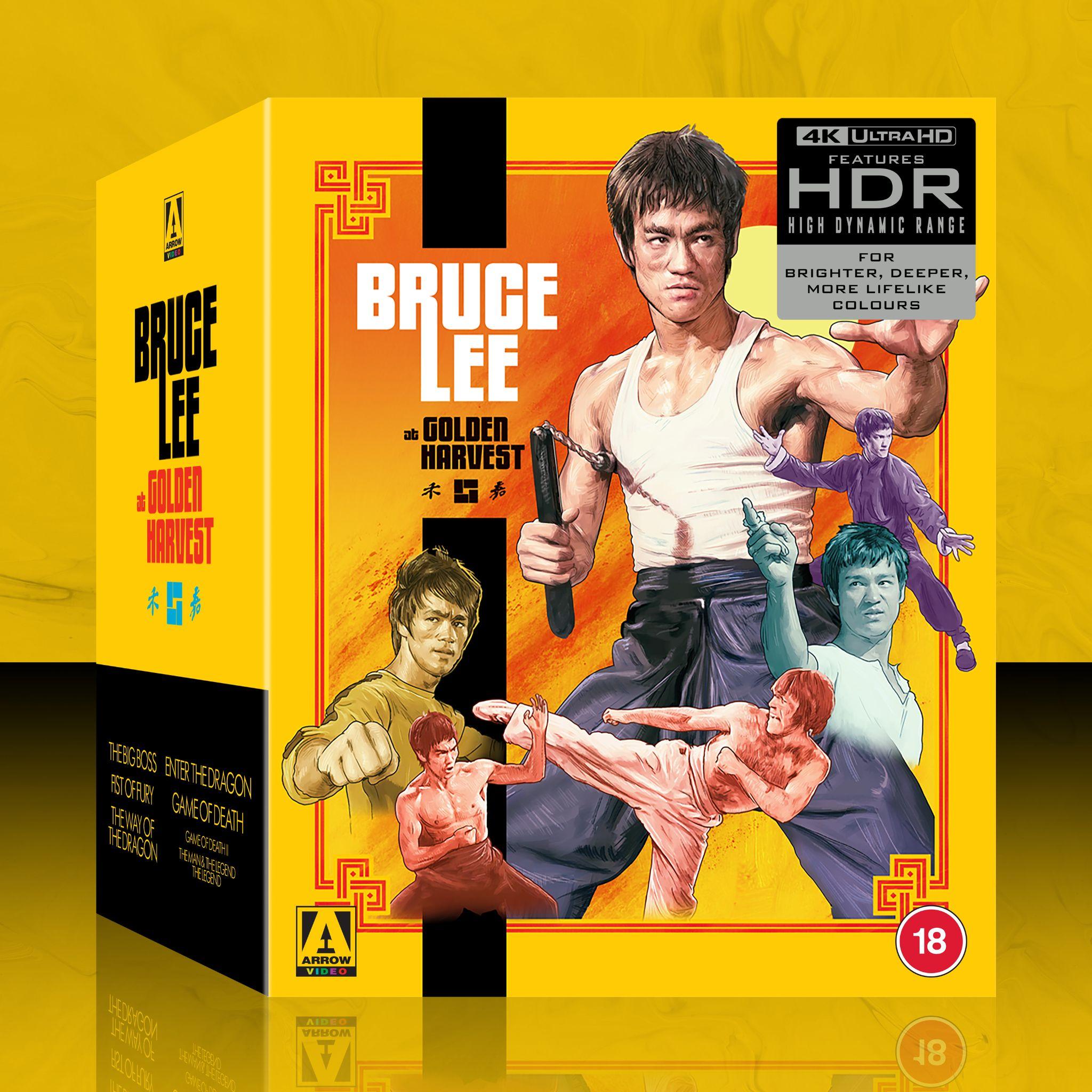 CINEMA SCREENINGS:
| | | | |
| --- | --- | --- | --- |
| Wednesday, May 31, 2023 | 7 DAYS | THE BIG BOSS | PRINCE CHARLES, LONDON |
| | | | |
| --- | --- | --- | --- |
| Friday, June 02, 2023 | 2 DAYS (2 / 4) | THE BIG BOSS | NATIONAL SCIENCE AND MEDIA MUSEUM, BRADFORD |
| | | | |
| --- | --- | --- | --- |
| Friday, June 02, 2023 | 1 DAY | THE BIG BOSS | QFT, BELFAST |
| | | | |
| --- | --- | --- | --- |
| Saturday, June 03, 2023 | 1 DAY | THE BIG BOSS | MOCKINGBIRD, BIRMINGHAM |
| | | | |
| --- | --- | --- | --- |
| Saturday, June 03, 2023 | 1 DAY | FIST OF FURY | MOCKINGBIRD, BIRMINGHAM |
| | | | |
| --- | --- | --- | --- |
| Saturday, June 03, 2023 | 1 DAY | WAY OF THE DRAGON | MOCKINGBIRD, BIRMINGHAM |
| | | | |
| --- | --- | --- | --- |
| Saturday, June 03, 2023 | 1 DAY | GAME OF DEATH | MOCKINGBIRD, BIRMINGHAM |
| | | | |
| --- | --- | --- | --- |
| Saturday, June 03, 2023 | 1 DAY | THE BIG BOSS | FILM THEATRE, GLASGOW |
| | | | |
| --- | --- | --- | --- |
| Sunday, June 04, 2023 | 1 DAY | THE BIG BOSS | HOME, MANCHESTER |
| | | | |
| --- | --- | --- | --- |
| Tuesday, June 06, 2023 | 1 DAY | FIST OF FURY | FILM THEATRE, GLASGOW |
| | | | |
| --- | --- | --- | --- |
| Wednesday, June 07, 2023 | 2 DAYS (7 / 16) | THE BIG BOSS | CINEMA, TYNESIDE |
| | | | |
| --- | --- | --- | --- |
| Thursday, June 08, 2023 | 1 DAY | THE BIG BOSS | TRISKEL ARTS CENTRE |
| | | | |
| --- | --- | --- | --- |
| Thursday, June 08, 2023 | 1 DAY | THE BIG BOSS | PHOENIX, LEICESTER |
| | | | |
| --- | --- | --- | --- |
| Friday, June 09, 2023 | 1 DAY | FIST OF FURY | THE POLY, FALMOUTH |
| | | | |
| --- | --- | --- | --- |
| Friday, June 09, 2023 | 1 DAY | FIST OF FURY | QFT, BELFAST |
| | | | |
| --- | --- | --- | --- |
| Saturday, June 10, 2023 | 2 DAYS (10 / 11) | FIST OF FURY | NATIONAL SCIENCE AND MEDIA MUSEUM, BRADFORD |
| | | | |
| --- | --- | --- | --- |
| Saturday, June 10, 2023 | 1 DAY | THE WAY OF THE DRAGON | QUAD, DERBY |
| | | | |
| --- | --- | --- | --- |
| Saturday, June 10, 2023 | 1 DAY | FIST OF FURY | QUAD, DERBY |
| | | | |
| --- | --- | --- | --- |
| Saturday, June 10, 2023 | 1 DAY | THE BIG BOSS | QUAD, DERBY |
| | | | |
| --- | --- | --- | --- |
| Saturday, June 10, 2023 | 1 DAY | GAME OF DEATH | QUAD, DERBY |
| | | | |
| --- | --- | --- | --- |
| Saturday, June 10, 2023 | 1 DAY | THE WAY OF THE DRAGON | FILM THEATRE, GLASGOW |
| | | | |
| --- | --- | --- | --- |
| Sunday, June 11, 2023 | 1 DAY | FIST OF FURY | HOME, MANCHESTER |
| | | | |
| --- | --- | --- | --- |
| Tuesday, June 13, 2023 | 1 DAY | GAME OF DEATH | FILM THEATRE, GLASGOW |
| | | | |
| --- | --- | --- | --- |
| Wednesday, June 14, 2023 | 1 DAY | FIST OF FURY | PHOENIX, LEICESTER |
| | | | |
| --- | --- | --- | --- |
| Thursday, June 15, 2023 | 1 DAY | FIST OF FURY | TRISKEL ARTS CENTRE |
| | | | |
| --- | --- | --- | --- |
| Thursday, June 15, 2023 | 1 DAY | THE BIG BOSS | FILM HOUSE, NORTHAMPTON |
| | | | |
| --- | --- | --- | --- |
| Friday, June 16, 2023 | 1 DAY | THE BIG BOSS | KING STREET CINEMA, IPSWICH |
| | | | |
| --- | --- | --- | --- |
| Friday, June 16, 2023 | 1 DAY | FIST OF FURY | KING STREET CINEMA, IPSWICH |
| | | | |
| --- | --- | --- | --- |
| Friday, June 16, 2023 | 1 DAY | THE WAY OF THE DRAGON | QFT, BELFAST |
| | | | |
| --- | --- | --- | --- |
| Friday, June 16, 2023 | 2 DAYS (16 / 17) | THE BIG BOSS | WATERSHED, BRISTOL |
| | | | |
| --- | --- | --- | --- |
| Friday, June 16, 2023 | 2 DAYS (16 / 17) | FIST OF FURY | WATERSHED, BRISTOL |
| | | | |
| --- | --- | --- | --- |
| Friday, June 16, 2023 | 2 DAYS (16 / 22) | THE WAY OF THE DRAGON | DUKES, LANCASTER |
| | | | |
| --- | --- | --- | --- |
| Saturday, June 17, 2023 | 1 DAY | GAME OF DEATH | KING STREET CINEMA, IPSWICH |
| | | | |
| --- | --- | --- | --- |
| Saturday, June 17, 2023 | 1 DAY | THE WAY OF THE DRAGON | KING STREET CINEMA, IPSWICH |
| | | | |
| --- | --- | --- | --- |
| Saturday, June 17, 2023 | 2 DAYS (17 / 18) | THE WAY OF THE DRAGON | NATIONAL SCIENCE AND MEDIA MUSEUM, BRADFORD |
| | | | |
| --- | --- | --- | --- |
| Sunday, June 18, 2023 | 1 DAY | WAY OF THE DRAGON | HOME, MANCHESTER |
| | | | |
| --- | --- | --- | --- |
| Sunday, June 18, 2023 | 1 DAY | GAME OF DEATH | QFT, BELFAST |
| | | | |
| --- | --- | --- | --- |
| Tuesday, June 20, 2023 | 1 DAY | THE WAY OF THE DRAGON | PHOENIX, LEICESTER |
| | | | |
| --- | --- | --- | --- |
| Thursday, June 22, 2023 | 1 DAY | WAY OF THE DRAGON | TRISKEL ARTS CENTRE |
| | | | |
| --- | --- | --- | --- |
| Thursday, June 22, 2023 | 1 DAY | FIST OF FURY | FILM HOUSE, NORTHAMPTON |
| | | | |
| --- | --- | --- | --- |
| Friday, June 23, 2023 | 7 DAYS | FIST OF FURY | PRINCE CHARLES, LONDON |
| | | | |
| --- | --- | --- | --- |
| Saturday, June 24, 2023 | 2 DAYS (24 / 25) | GAME OF DEATH | NATIONAL SCIENCE AND MEDIA MUSEUM, BRADFORD |
| | | | |
| --- | --- | --- | --- |
| Saturday, June 24, 2023 | 1 DAY | GAME OF DEATH | PHOENIX, LEICESTER |
| | | | |
| --- | --- | --- | --- |
| Sunday, June 25, 2023 | 1 DAY | GAME OF DEATH | HOME, MANCHESTER |
| | | | |
| --- | --- | --- | --- |
| Sunday, June 25, 2023 | 2 DAYS (25 / 30) | FIST OF FURY | CINEMA, TYNESIDE |
| | | | |
| --- | --- | --- | --- |
| Saturday, July 01, 2023 | 2 DAYS (1 / 2) | THE WAY OF THE DRAGON | WATERSHED, BRISTOL |
| | | | |
| --- | --- | --- | --- |
| Saturday, July 01, 2023 | 2 DAYS (1 / 2) | GAME OF DEATH | WATERSHED, BRISTOL |
| | | | |
| --- | --- | --- | --- |
| Sunday, July 02, 2023 | 1 DAY | FIST OF FURY | SHOWROOM, SHEFFIELD |
| | | | |
| --- | --- | --- | --- |
| Thursday, July 06, 2023 | 1 DAY | WAY OF THE DRAGON | FILM HOUSE, NORTHAMPTON |
| | | | |
| --- | --- | --- | --- |
| Sunday, July 09, 2023 | 1 DAY | WAY OF THE DRAGON | SHOWROOM, SHEFFIELD |
| | | | |
| --- | --- | --- | --- |
| Sunday, July 09, 2023 | 2 DAYS (9 / 18) | THE WAY OF THE DRAGON | CINEMA, TYNESIDE |
| | | | |
| --- | --- | --- | --- |
| Thursday, July 13, 2023 | 1 DAY | GAME OF DEATH | FILM HOUSE, NORTHAMPTON |
| | | | |
| --- | --- | --- | --- |
| Friday, July 14, 2023 | 7 DAYS | THE WAY OF THE DRAGON | PRINCE CHARLES, LONDON |
| | | | |
| --- | --- | --- | --- |
| Sunday, July 16, 2023 | 1 DAY | GAME OF DEATH | SHOWROOM, SHEFFIELD |
| | | | |
| --- | --- | --- | --- |
| Thursday, July 20, 2023 | 2 DAYS (20 / 27) | GAME OF DEATH | CINEMA, TYNESIDE |
| | | | |
| --- | --- | --- | --- |
| Friday, September 01, 2023 | 7 DAYS | GAME OF DEATH | PRINCE CHARLES, LONDON |
| | | | |
| --- | --- | --- | --- |
| Friday, September 15, 2023 | 7 DAYS | GAME OF DEATH II | PRINCE CHARLES, LONDON |