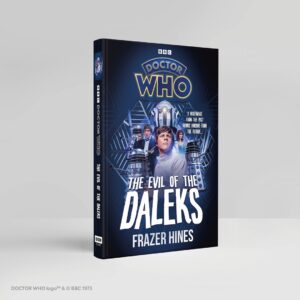 An inventive new retelling of one of Doctor Who's all-time classic adventures, The Evil of the Daleks, will be published as a novel on 26th October.
The Evil of the Daleks, which was first released in 1967 on our television screens, will be the first novel from beloved Doctor Who actor, Frazer Hines, who played one of the show's longest running companions, Jamie McCrimmon.
After defending a space station from a Cyberman incursion, the Doctor and Jamie learn that young astrophysicist Zoe wishes to join them on their travels. To give her fair warning of the dangers she may face, the Doctor places the TARDIS outside time and space and uses a mind projector to share one of their most harrowing adventures…
And so, Jamie is forced to relive his encounter with the Daleks at their most evil and calculating. In a complex plot that dragged him from modern-day London to Victorian times and finally to the Dalek world of Skaro, he endured ordeals that tested his courage, strength – and his friendship with the Doctor – to the limit. He presents his own version of some of those events to Zoe; events that still anger him.
And while fact and fiction blur inside the TARDIS, a malevolent force watches from outside. Soon, Jamie finds himself lured from the safety of the ship into dangers that could end Zoe's travels before they begin – and all their lives, as well.
Frazer Hines is a British actor for television and film. He played Jamie McCrimmon in Doctor Who, the companion to Patrick Troughton's Second Doctor from 1966-69, and has made guest appearances on the show since. He started his career working with Charlie Chaplin, one of the few remaining actors that have appeared with him.
Signed copies are available to pre-order from Frazer Hines' website at www.frazerhines.co.uk
Otherwise the title (and audio) are available for pre-order from Amazon and other outlets.