Arrow Video's August lineup includes a treasure trove of Film Noirs, one of Terry Gilliam's most beloved, fantastical epics in a brand new 4K restoration, and the UHD debut of the remake of a graphic horror shocker.
The releases feature sparkling new restorations, brand new commentaries, video essays and documentaries, reversible sleeves, limited edition packaging, hardbound books containing incisive writing on the films and filmmakers, fold-out posters and more.
First in August, the Film Noir Collection Vol. 3, where vengeful army vets, ruthless organised criminals, and desperate parent-child psychodramas await you in these four classics from noir streets less travelled. This collection of noir's neglected treasures – Calcutta (1946) with Alan Ladd, Ride the Pink Horse (1947) with Robert Montgomery, Outside the Law (1956) with Ray Danton, and The Female Animal (1958) with Hedy Lamarr – doesn't stick to the city streets: from smuggling contraband in the skies over Asia to drowning beneath the torrent of a Hollywood waterfall, the genre's darkness lurks everywhere. Released on Limited Edition Blu-ray, the 4-disc box set includes brand new commentaries and video essays, a limited edition hardback collector's book, fold-out posters and reversible sleeves with new artwork.
August also sees the release of Time Bandits, the film that established Terry Gilliam as more than just Monty Python's resident animator, a delightfully inventive children's fantasy starring Sean Connery, John Cleese, and Ian Holm, with Ralph Richardson and David Warner as Good and Evil. This is a rare example of an independent British film taking on American blockbusters, a much-loved fantasy classic bursting with inspired images and ideas: Gilliam and co-writer Michael Palin (who also appears) are clearly enjoying themselves as much as their audience. The film is available on Limited Edition 4K Ultra HD Blu-ray, and includes a wealth of behind the scenes extras, a poster and collector's booklet.
Next in August is The Last House on the Left, on Limited Edition UHD and Limited Edition Blu-ray, a vicious and efficient updating of the 1972 controversial shocker of the same name, produced by its original director/producer pairing of Wes Craven and Sean Cunningham. Energetically directed by Dennis Iliadis from a new script by Carl Ellsworth (Red Eye, Disturbia), this remake of horror cinema's seminal tale of bloody revenge has been described by Stephen King as "the best horror movie of the new century". This two-disc special edition includes two versions of the film (the original Theatrical Version and the Unrated Version), an illustrated collector's booklet and reversible sleeve featuring original and newly commissioned artwork.
Finally in August, Weird Science, on Limited Edition UHD. After proving himself the king of heartfelt teen flicks with Sixteen Candles and The Breakfast Club, writer-director John Hughes infused the genre with a hefty dose of wacked-out sci-fi comedy in Weird Science, a film where every teenage boy's wildest fantasies come to life.  Inspired by EC Comics and boosted by a killer soundtrack (including the classic title theme by Oingo Boingo), Weird Science has never looked better than in this new 4K Ultra-HD Blu-ray edition, including an extended version of the film and hours of bonus content.
New Releases
Film Noir Collection Vol. 3
On Limited Edition Blu-ray 7th August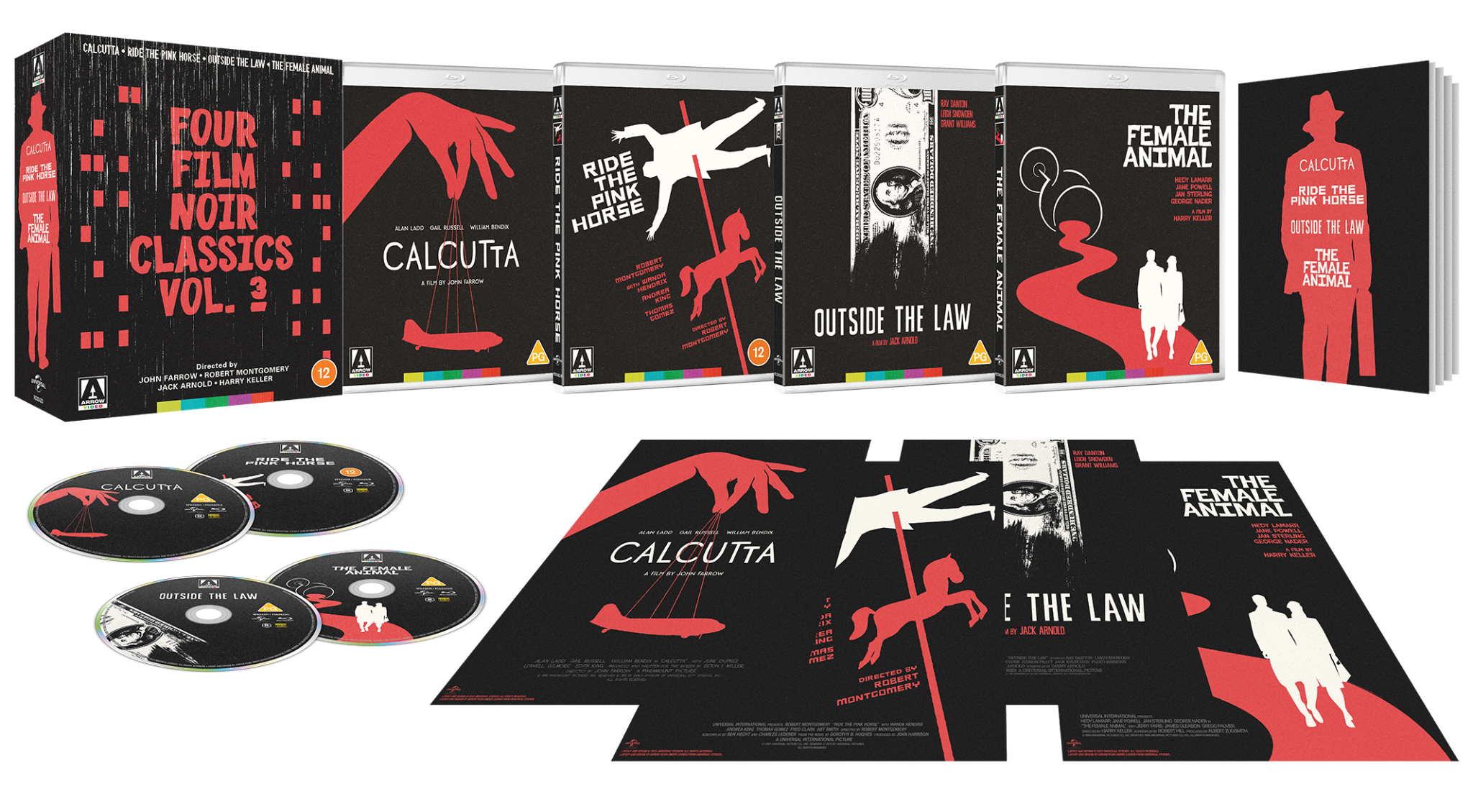 In Calcutta (1946), Neale (Alan Ladd, Shane), a cynical cargo pilot, investigates the murder of a close friend and finds himself falling into the arms of his late friend's mysterious fiancée, Virginia (Gail Russell, The Uninvited). When he connects the murder to a ring of illicit jewellery-smugglers, he becomes their next target. Is Virginia as innocent and vulnerable as she seems? In Ride the Pink Horse (1947), Gagin (Robert Montgomery, Lady in the Lake), a surly former GI, goes after the crime boss who murdered his friend. His gambit: to put the screws to the gangster with the same extortion plot that got Gagin's buddy killed. This time things have to end differently, right? In Outside the Law (1956), Johnny Salvo, (Ray Danton, The Longest Day), a convict paroled into military service, is called back stateside on a mission that could clear his record: get inside the counterfeiting racket that killed his army buddy. Not only is the assignment dangerous, but Salvo's got to work for the cop who put him behind bars – his own estranged father. Finally, in The Female Animal (1958), a glamorous movie star (Hedy Lamarr, Samson and Delilah) and her alcoholic daughter (Jane Powell, Seven Brides for Seven Brothers) vie for the affections of a handsome young movie extra (George Nader, Robot Monster) who has entered their lives. When the older woman generously opens her lifestyle to the young man, his insecurities feed his ambivalence. When he ends up in the arms of her daughter, disaster looms.
Time Bandits
On Limited Edition UHD 28th August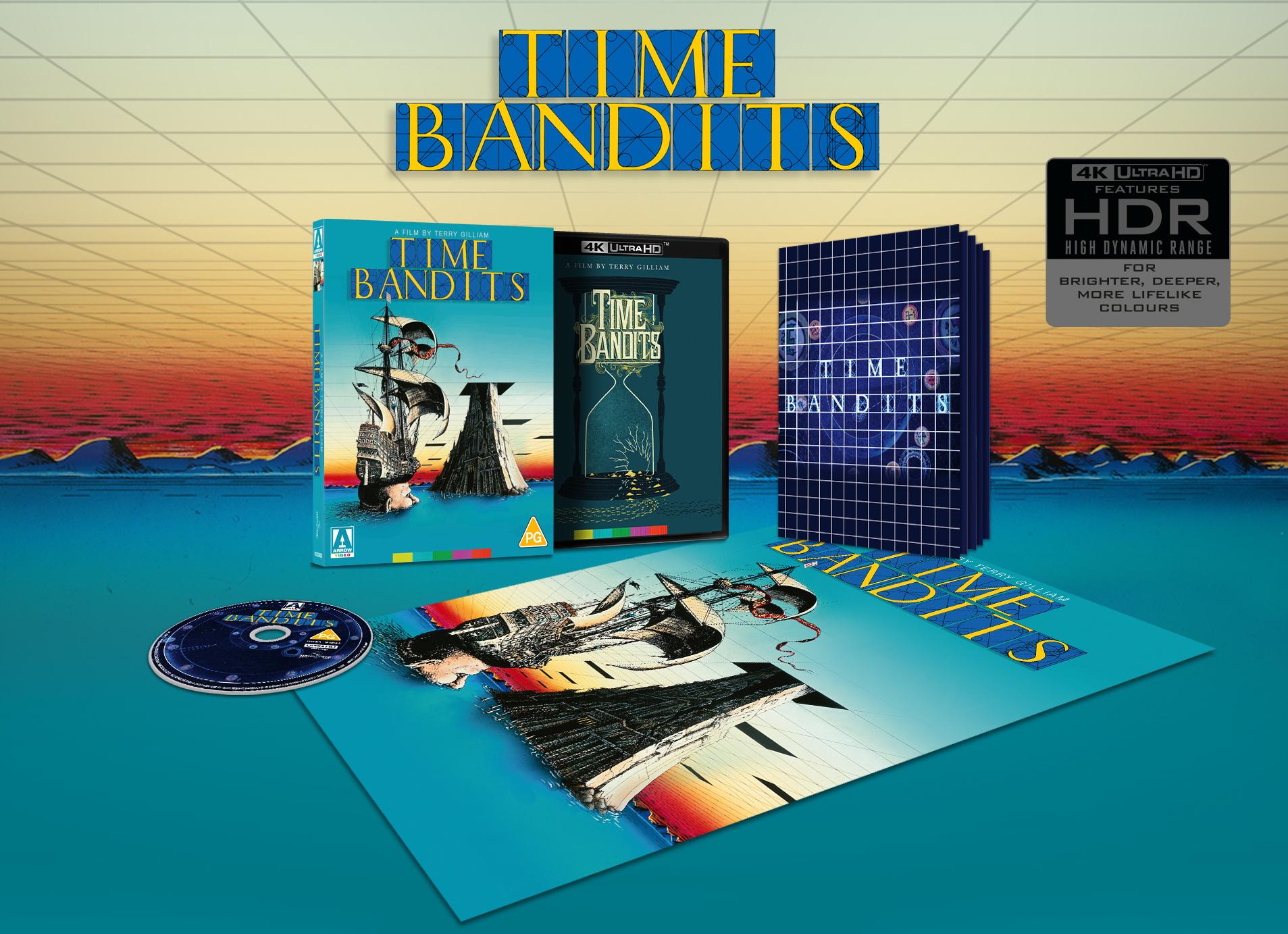 Young Kevin (Craig Warnock) who finds himself travelling through holes in the space-time continuum in the company of half a dozen fractious dwarfs. Along the way, he encounters Agamemnon (Sean Connery), Robin Hood (John Cleese), Napoleon (Ian Holm) and winds up as a passenger on the Titanic, although not necessarily in that order. But is this just random entertainment laid on for history fan Kevin's benefit, or part of a wider struggle between the forces of Good (Ralph Richardson) and Evil (David Warner)?
 The Last House on the Left
Limited Edition UHD/Blu-Ray 28th August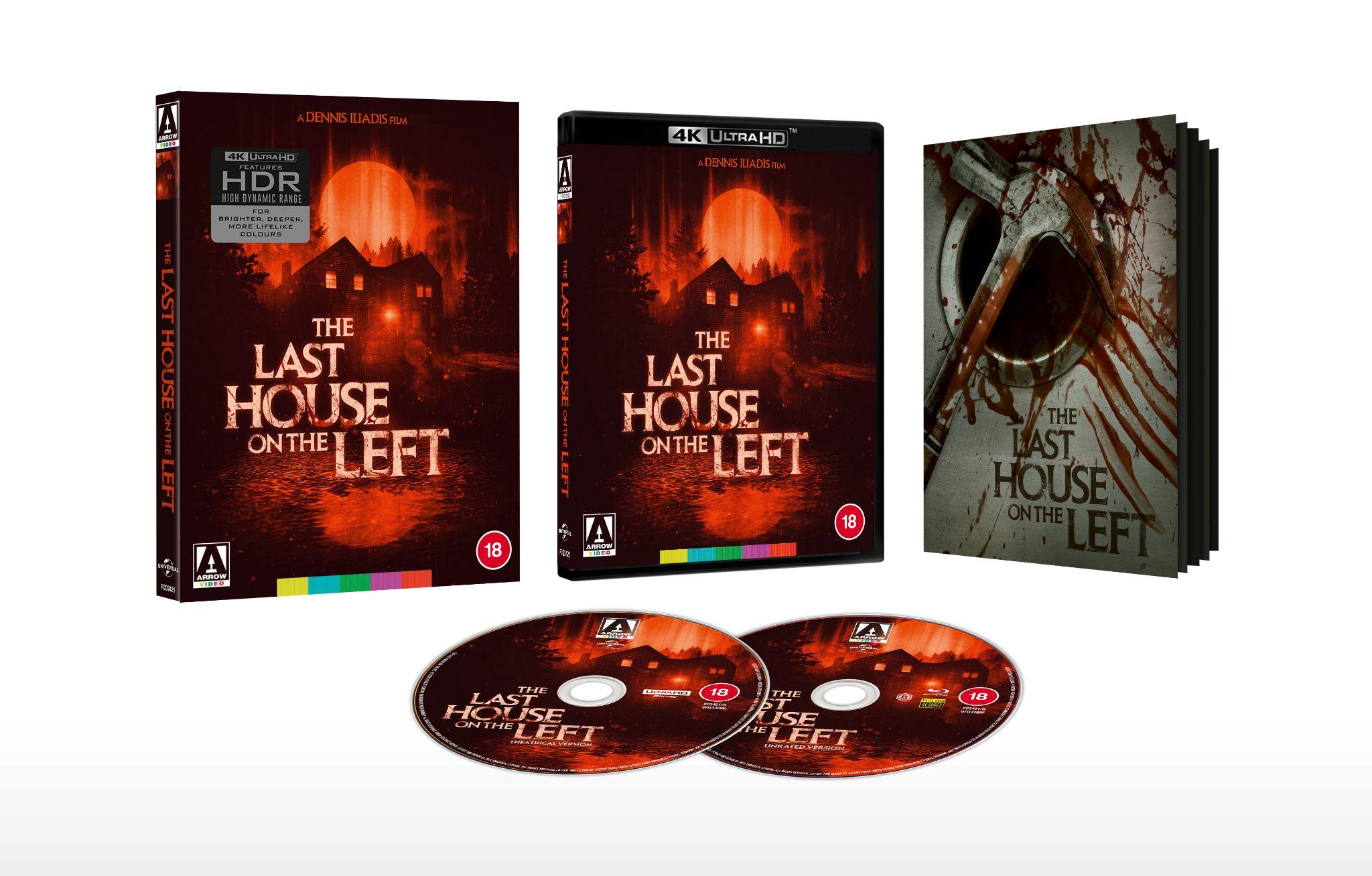 When athletic teen Mari Collingwood (Sara Paxton) opts to hang out with her friend Paige in town rather than spend an evening in with her parents vacationing at the family's remote lake house, it marks the beginning of a night no one is going to forget. The two girls wind up in the company of escaped convict Krug (Garret Dillahunt) and his makeshift family of vile career criminals, who kidnap and brutally assault them before leaving them for dead. Fleeing from the scene of their violent crime during a storm, the thugs inadvertently seek refuge with Mari's parents, anxious as to why their daughter hasn't come home yet and primed to unleash the full forces of hell on anyone who would dare to touch so much as a hair on her head.
 Weird Science
Limited Edition UHD 21st August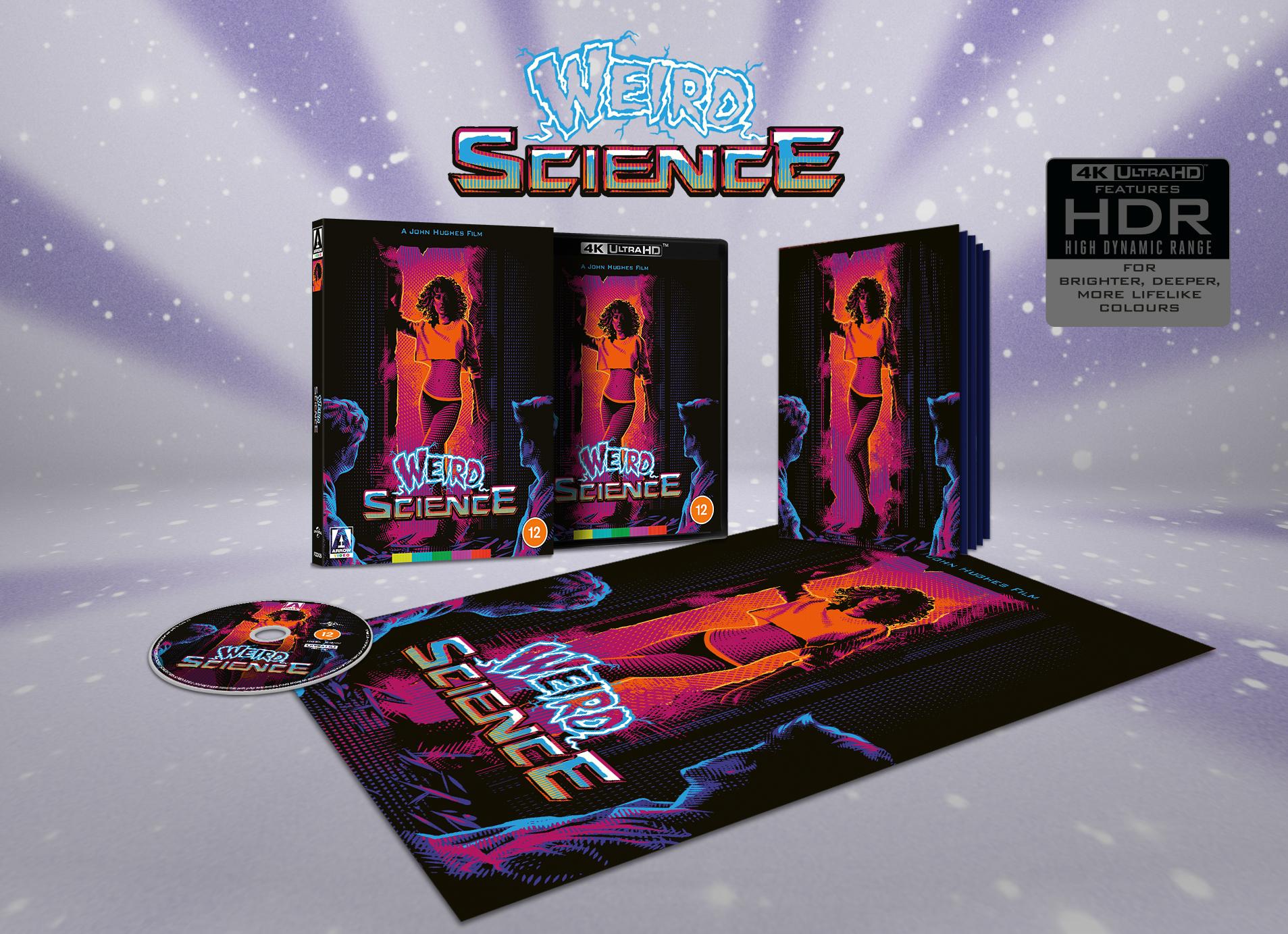 Perennially picked-on high school nerds Gary (Anthony Michael Hall, Sixteen Candles) and Wyatt (Ilan Mitchell-Smith) are sick of their status at the bottom of the social food chain. Using Wyatt's computer, the two hatch a plan to create their dream woman – and following a massive power surge, that woman unexpectedly appears in the form of Lisa (Kelly LeBrock). Gorgeous, intelligent, and blessed with limitless magic powers, Lisa makes the boys' dreams come true… but what about Wyatt's gun-toting psycho older brother Chet (Bill Paxton), and the two bullies (Robert Downey Jr and Vamp's Robert Rusler) determined to put them back in their place?