Classic Pacino, breathtaking Bava, a Psycho box set, and Ringu in UHD
Arrow Video's September lineup includes a 4K UHD + Blu-ray De Palma/Pacino crime masterpiece, a Giallo masterpiece from Mario Bava, the four Psycho films in one thrilling collection and a groundbreaking J-horror in UHD.
The releases feature brand new restorations, UHD debuts, incisive commentaries and video essays, illuminating documentaries, limited edition packaging, perfect-bound books with incisive writing on the films, fold-out posters, art cards and reversible sleeves.
New Releases
Carlito's Way
On Limited Edition UHD + Blu-ray 25th September
Original Artwork Slipcase Limited Edition UHD + Blu-ray 25th September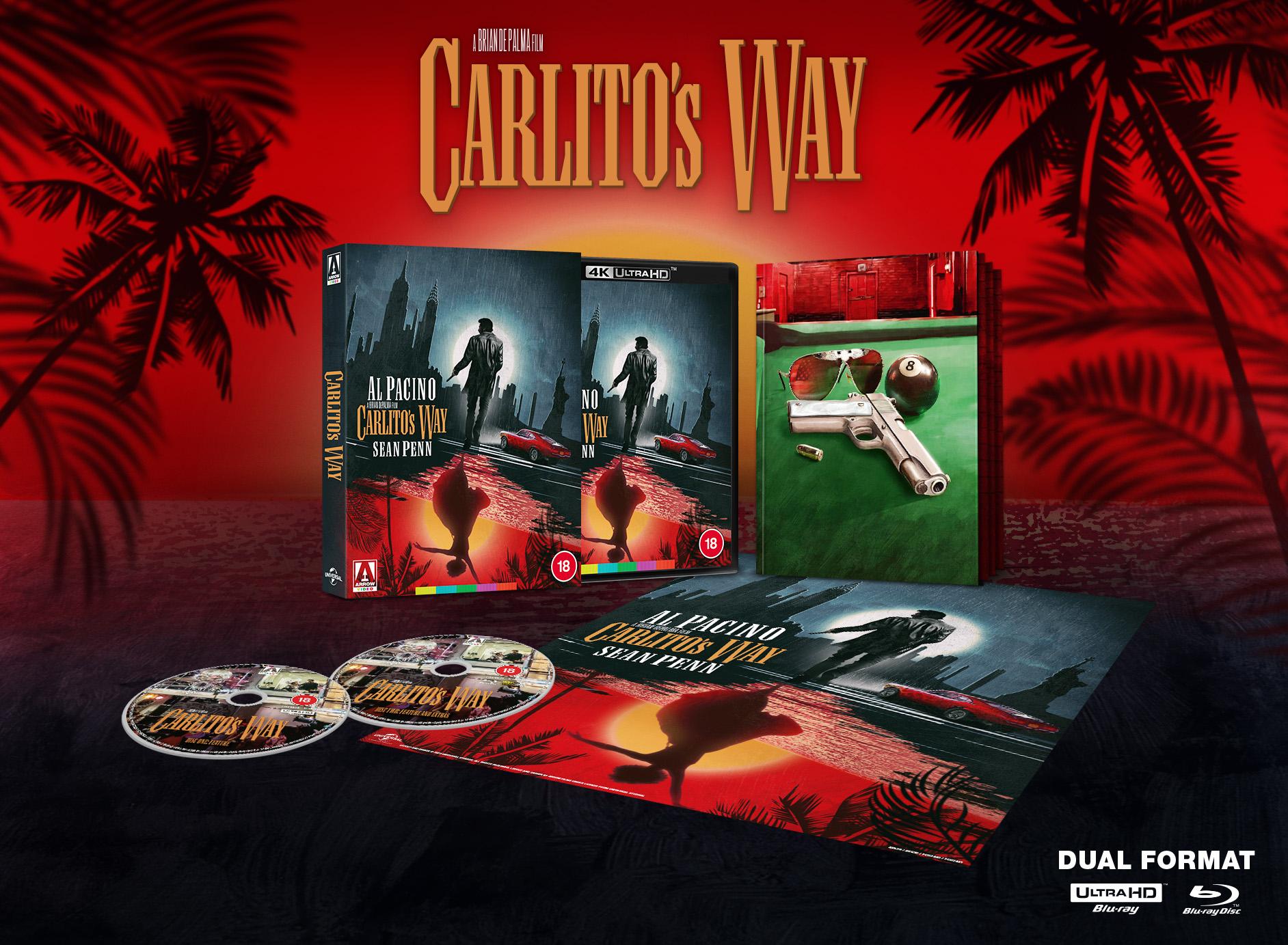 First in September, Carlito's Way, where Academy Award® winner Al Pacino reunites with his Scarface director Brian De Palma for this tough-minded thriller about a gangster looking for salvation down the mean streets of 1970s New York City. Also starring Sean Penn (Milk), John Leguizamo (Land of the Dead), Luis Guzmán (Magnolia), and Viggo Mortensen (The Lord of the Rings), Carlito's Way has come to be regarded as among De Palma's most accomplished films –   a hard-hitting gangster noir laced with romance and melancholy, powerful performances and nail-biting suspense. Available on Limited Edition 4K UHD + Blu-ray (as well as a Limited Edition 4K UHD + Blu-ray with an Original Artwork Slipcase), the release includes brand new audio commentaries and interviews, a fold-out poster and collector's booklet.
Gangster Carlito Brigante (Al Pacino) gets released early from prison thanks to the work of his lawyer, Kleinfeld (Sean Penn, Milk). Vowing to go straight, Carlito nonetheless finds dangers waiting for him in the outside world. As Carlito works toward redemption, Kleinfeld sinks into cocaine-fuelled corruption. When Kleinfeld crosses the mob, Carlito gets caught in the crossfire and has to face a hard choice: remain loyal to the friend who freed him or protect a new life with the woman he loves (Penelope Ann Miller, The Relic). With enemies closing in from all sides, Carlito must find his way before it's too late.
Blood and Black Lace
On Limited Edition UHD 18th September
On Limited Edition Blu-ray 18th September
September also sees the release of Mario Bava's legendary Blood and Black Lace. Having established a template for the giallo with The Girl Who Knew Too Much, Bava set about cementing its rules with Blood and Black Lace. In doing so, he created one of the most influential films ever made – an Italian classic that would spearhead the giallo genre, provide a prototype for the slasher movie, and have a huge effect on filmmakers as diverse as Dario Argento and Martin Scorsese. Newly restored from the original camera negative and presented here in its original uncut form, this all-new 4K Ultra HD release allows fans to see Blood and Black Lace afresh and offers newcomers the ideal introduction to a major piece of cult filmmaking. It is also released on an Arte Originale Limited Edition UHD, Limited Edition Blu-ray, and all come with limited edition packaging, a 60-page perfect bound book, a fold-out double-sided poster and six double-sided collector's postcards
Legendary director Mario Bava set about cementing the rules for the giallo genre with Blood and Black Lace, creating one of the most influential films ever made. An Italian classic, about a masked killer at large in a Christian Haute Couture fashion house, the film that provided the prototype for the slasher movie can be seen here restored and in all its uncut glory.
The Psycho Collection
Limited Edition UHD 25th September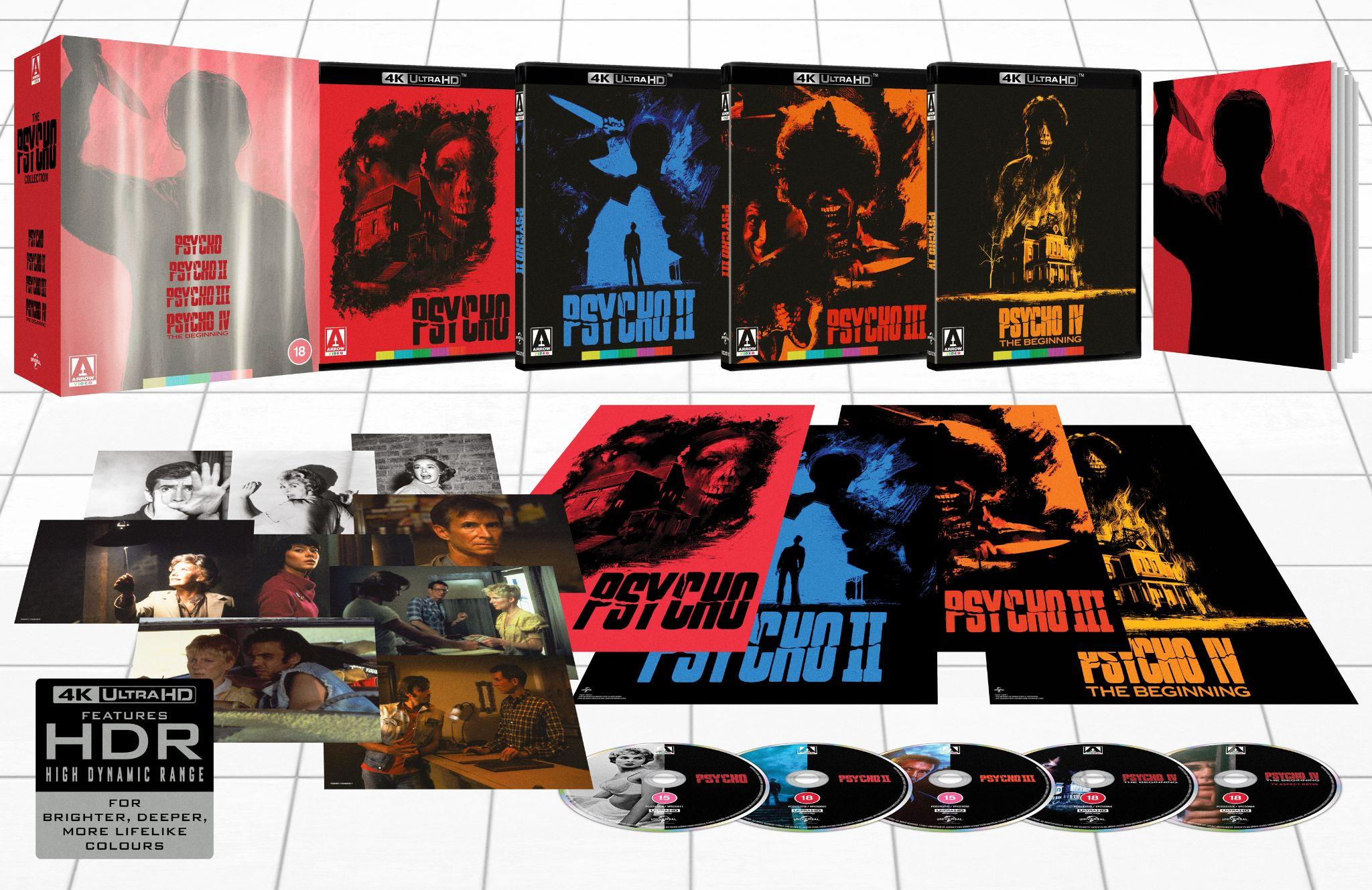 Next in September is The Psycho Collection. Shattering expectations and shocking audiences around the world, Alfred Hitchcock's Psycho changed the face of cinema in 1960. It remains one of the most iconic and influential movies ever made. Twenty three years later, Australian filmmaker Richard Franklin (Patrick, Road Games) boldly followed in the master's footsteps and directed Psycho II, a sequel that not only delivered on the promise of his earlier films, but also lived up to Hitchcock's original. Parts III and IV turned a singular classic into part of a horrifying and unmissable series. Presented together for the first time in the UK on 4K UHD and Blu-Ray, featuring all new restorations of Psycho II, III and IV from the original camera negatives, Arrow Video invites you back inside the Bates Motel and wishes you a very pleasant stay. Presented in a Limited Edition UHD five disc box-set, and on Limited Edition Blu-ray, the collection includes reversible sleeves, double-sided posters for each film, nine postcard sized reproduction art cards, and a 120-page perfect bound collector's book featuring new writing on the films.
Twenty three years after Psycho, Norman Bates (Anthony Perkins) returns in Psycho II, and  is declared sane and released from the facility in which he was being held, despite the complaints of Lila Loomis (neé Crane, Vera Miles) sister of Norman's most famous victim. All Norman wants to do is live quietly and productively as a normal member of society. But is returning to the house he once shared with his mother, and running the motel that was the site of so many murders, really a good idea? Is he cured, or will he kill again? 
Psycho III would see Anthony Perkins himself take the franchise reins for his directorial debut, bringing a stylish flair that suggested his time working with not only Alfred Hitchock, but Orson Welles and Ken Russell had been well spent. Fallen nun (Diana Scarwid as Maureen Coyle), a sleazy drifter (Jeff Fahey as Duane Duke), and a curious reporter looking for a scoop (Roberta Maxwell as Tracy Venables) all arrive at the Bates Motel and 'Mother' is less than happy, especially when Norman begins to fall in love. Meanwhile, Psycho IV: The Beginning, written by Joseph Stefano (screenwriter of the 1960 original) and directed by master of horror Mick Garris, returns to the primal scene to show us how it all began in Anthony Perkins' final franchise appearance. Rehabilitated and happily married, Norman Bates has finally escaped from the overbearing influence of his abusive mother. But his wife is pregnant, and Norman  finds himself afraid that the child will inherit his mental illness. When he hears talk radio host Fran Ambrose (CCH Pounder) discussing the topic of matricide, Norman calls in under a false name, to tell his story. Starring Henry Thomas (E.T.) as young Norman and Olivia Hussey (Black Christmas) as his mother, Norma.
Ringu
Limited Edition UHD 18th September
Limited Edition UHD Original Artwork 18th September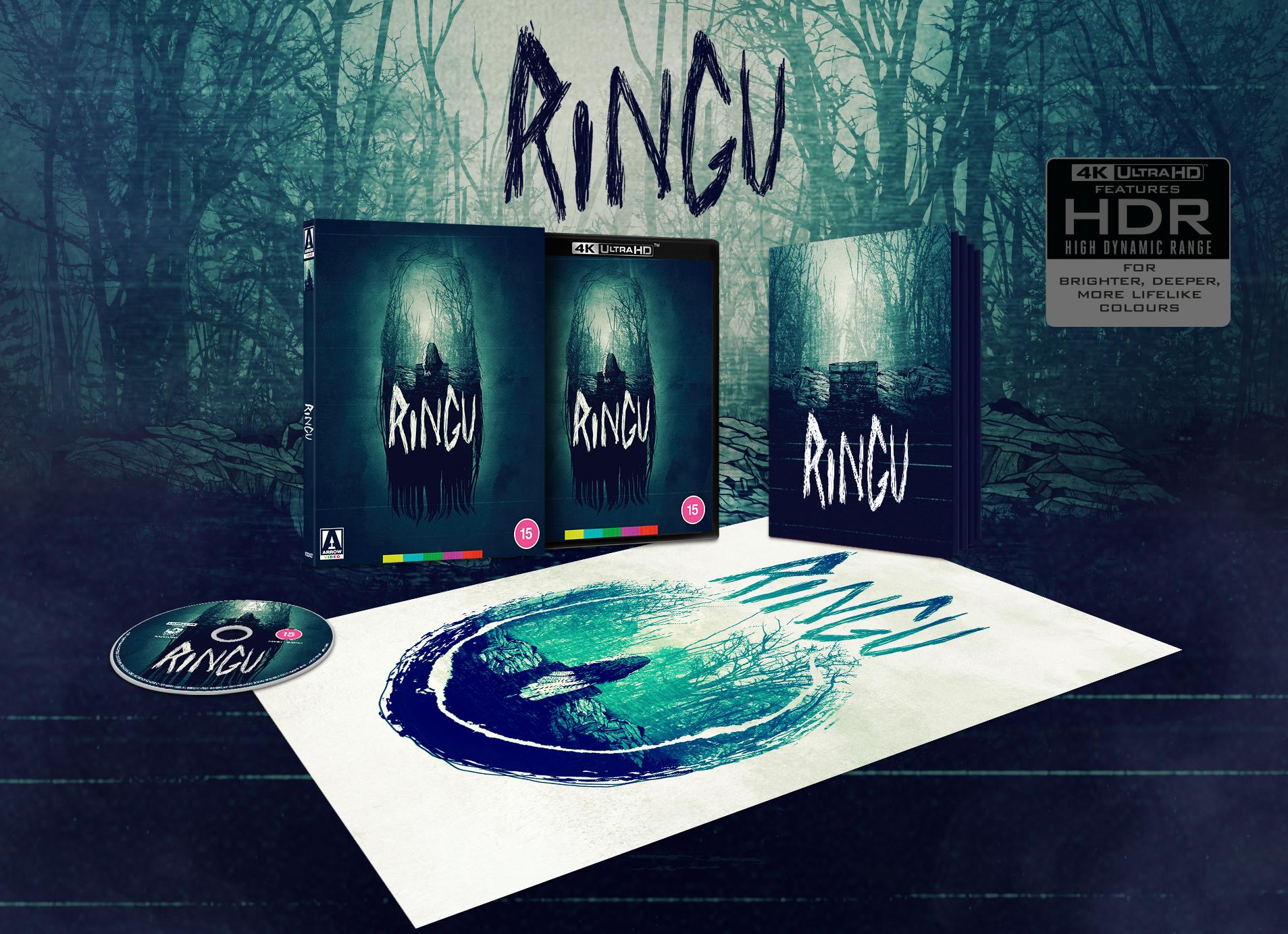 Finally in September Arrow Video is proud to present Ringu, director Hideo Nakata's chilling tale of technological terror, which redefined the horror genre, launched the J-horror boom in the West and introduced a generation of moviegoers to a creepy, dark-haired girl called Sadako. The film's success spawned a slew of remakes, reimaginations and imitators, but none could quite boast the power of Nakata's original masterpiece, which melded traditional Japanese folklore with contemporary anxieties about the spread of technology. Restored from the original negative in glorious 4K and supplemented by a wealth of bonus materials, as well as limited edition packaging, a fold-out poster featuring and an illustrated collector's booklet, the release is also available as an Original Artwork UHD Limited Edition.
A group of teenage friends are found dead, their bodies grotesquely contorted, their faces twisted in terror. Reiko (Nanako Matsushima, When Marnie Was There), a journalist and the aunt of one of the victims, sets out to investigate the shocking phenomenon, and in the process uncovers a creepy urban legend about a supposedly cursed videotape, the contents of which causes anyone who views it to die within a week – unless they can persuade someone else to watch it, and, in so doing, pass on the curse…