Masaaki Yuasa's Historical Rock Musical "Inu-Oh" Coming To Collector's Edition Blu-Ray
Annie-nominated film from anime auteur Masaaki Yuasa releases on Blu-ray, DVD, and Collector's Edition combo pack on 7th August
Glasgow, UK, 12 July 2023  – Get ready to experience a show that will change history, from the comfort of your living room! Anime Limited are excited to announce that you'll soon be able to bring home your very own record of INU-OH, the Golden Globe and Annie Award-nominated 14th century rock opera from anime auteur Masaaki Yuasa (MIND GAME, DEVILMAN crybaby). INU-OH will be available on Blu-ray and DVD, as well as an AllTheAnime.com exclusive Blu-ray & DVD Collector's Edition, from 7th August 2023.
Based on a novel by renowned Japanese author Hideo Furukawa and inspired by history, INU-OH blends historical fantasy and rock musicals to tell the story of an aspiring performer shunned because of his unique appearance. However, he can hear the voices of samurai who died fighting for the historic Heike clan 200 years ago, and each time he performs their stories, a part of his human appearance is transformed. After a fateful encounter with the blind biwa priest Tomona, the two join forces to climb the ladder to stardom. However, in an era of political turmoil, not everyone is ready for the true story of the Heike.
Exclusive to AllTheAnime.com, the INU-OH Blu-ray and DVD Collector's Edition continues the company's industry leading dedication to premium home video releases that has made them the favourite distributor for anime fans in Europe.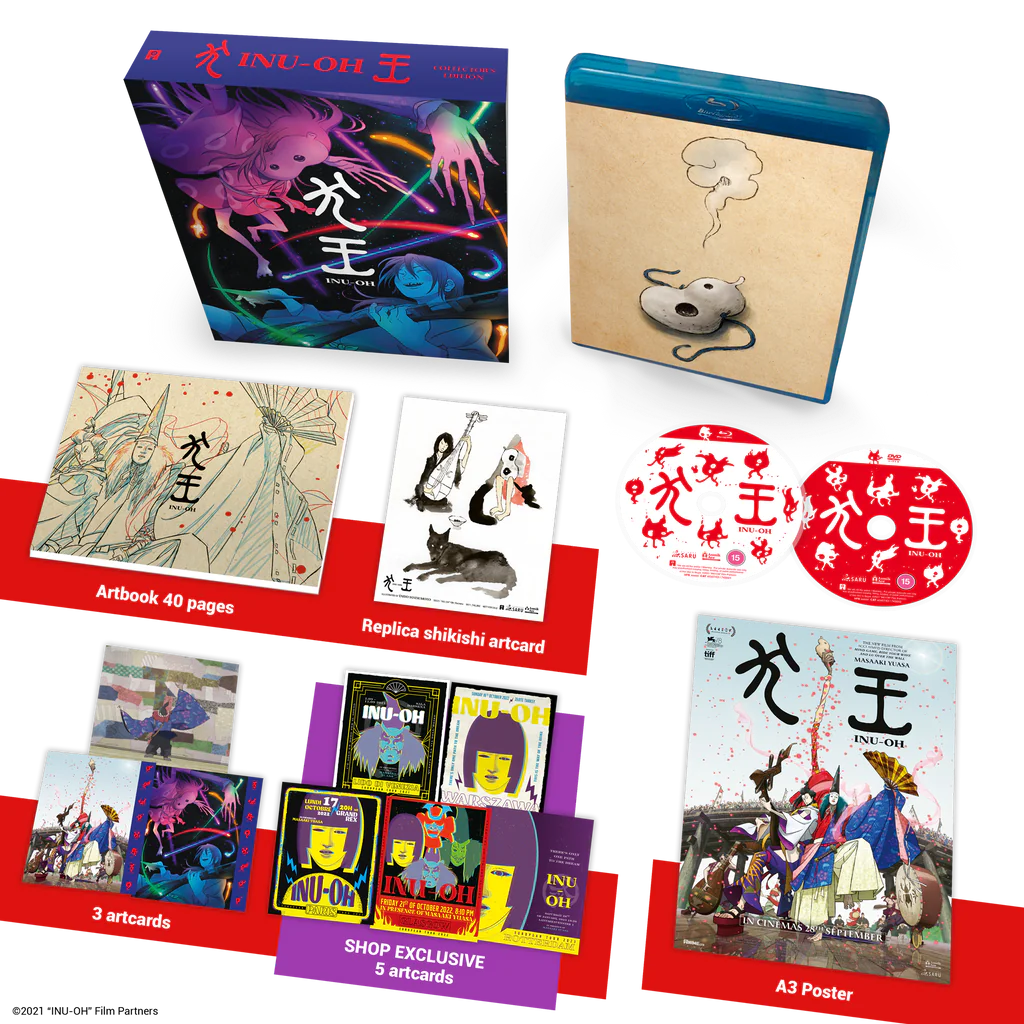 The Collector's Edition includes:
A bespoke rigid case featuring artwork from the film

A 40-page artbook featuring character artwork and production materials.

An A3 replica of the UK theatrical poster.

A replica "shikishi" art card

3x art cards featuring key artwork for the film.

And of course, the film on both Blu-ray and DVD.
The on-disc extras for the Collector's Edition, as well as the Standard Edition Blu-ray release are:
INU-OH interview with Masaaki Yuasa

Career Interview with Masaaki Yuasa

Intermission "Inu-Oh and Tomoichi"

Cast Interview

Trailer
Synopsis:
Inu-oh is born with unique physical characteristics, and the horrified adults cover every inch of his body with garments, including a mask on his face. One day, he meets a boy named Tomona, a blind biwa player, and as Tomona plays a delicate song of tangled fate, Inu-oh discovers an incredible ability to dance. Inu-oh and Tomona become business partners and inseparable friends, using their creative gifts to survive on the margins of society, as song after song gain them notoriety and propel them to stardom. Through the songs, Inu-oh mesmerises his audiences on stage, and gradually begins to transform into someone of unequalled beauty. But why is Tomona blind? Why was Inu-oh born with unique characteristics?
It is a story about the friendship of Inu-oh and Tomona, who dance and sing to get to the truth and break each other's curse.
INU-OH will be released on Blu-ray, DVD, and AllTheAnime.com exclusive Collector's Edition on 7th August 2023. The release will include the film in Japanese with English subtitles, and an English language dub.