Reviewed by Cliff Homewood
Fools nobody – it's Insidious 5.  Being the franchise title that likes big words, how about perfidious or recursive?
I didn't realise the Sony logo was scary as is Screen Gems and Stage 6.  By the time Blumhouse Productions came up I was out of there!  The film highlights the power of Joseph Bishara's soundtrack: he also composed the first four.  The writer of the first four is replaced by Scott Teems, who previously wrote Firestarter and Halloween Kills for Blumhouse.  I'm a fan of Blumhouse but not those films, they have, however, delivered some great horror films recently exemplified by The Invisible Man.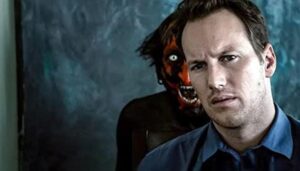 Where Insidious creeps this creaks. Maybe unfair complaining the 5th film is recycled material, but I'm going to. It repeats two types of scares, something in the distance getting closer, hero blissfully unaware, and mindfulness; time slowing down, we live in the moment knowing something is about to happen, tantalising, eking it out, any moment now … They work well, the problem is the gaps between. The MRI scare is chilling but used by the trailer. Patrick Wilson, directing for the first time, admits they can't top the red devil scare from the first film.
I enjoyed Insidious and Conjuring franchises (easily confused) but was not impressed with Insidious 4. Often the highlight of supernatural horrors is the psychic, as is the case with Insidious and Elise Rainier (Lin Shaye), alas underused here.  The Further, reminiscent of the upside down in Stranger Things but coming first, is not used effectively.
It's like PTSD the movie, setting up something they've tried to forget (possibly Insidious 2).  Suitably the film feels fractured, the son Dalton going to college being the main story, Patrick Wilson, seems to have scenes to give him screentime.  Dalton (Ty Simpkins) and his roommate Chris (Sinclair Daniels) have good chemistry and some nice modern sounding dialogue sets up their initial meeting.  The art class scene adds depth, however the spooky painting is clichéd, from Pickman's Model and The Mezzotint to The Picture of Dorian Gray, all written well before modern media (like television!) An updating of the idea would've been more original.  The painting is suitably atmospheric.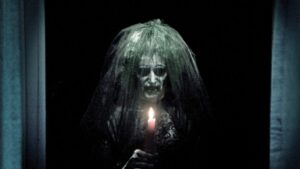 Enjoyment depends on how much of this sort of thing you've seen.  If you're well versed, then it disappoints in the films it rips off, dragging out what could have been a good story to make a mystery.  A good script develops characters so when they feel pain we feel pain like Toni Collette feels pain.  The film delivers a scary concept other than making us live it vicariously (that's right, with a vicar!)
If you are old enough to remember the 20th century it's not for you. They say ignorance is bliss, but I'm old enough to remember James Blish and the films this cribs from.