Review by David J Howe
From the outset you know that this play, Laurel & Chaplin: The Feud, is going to be something slightly different. In London's West End, it's showing at the Cambridge Theatre, but only on Monday nights … the rest of the week the theatre is home to the stage production of Matilda … and the theatre is done out with elements relating to that show: school desks, books on the walls and so on …
But here, Jordan Conway, playing Chaplin, starts messing about in the seats before the show starts … goofing with the people in the gallery … before it all kicks into gear as the lights dim, and he introduces himself.
The play follows and documents the relationship between Charlie Chaplin, and Stan Laurel (Matt Knight) from when they first met in London (introduced to the stage by Chaplin's mother, a somewhat drink-addicted stage songbird) through to when Chaplin headed for Hollywood and beyond. The double act was indeed Chaplin and Laurel for a time as the two cavorted and performed and developed their schtick on stage: Chaplin 'the funny one' and Laurel 'the straight man' … however nothing is that simple, and Laurel was the more talented of the two, and Chaplin developed a fear of being overshadowed, thus when Fred Karno (Richard Gauntlett) entices Chaplin to Hollywood, Laurel never hears from him again, and eventually teams up with Oliver Hardy to create the great comedy duo of early film.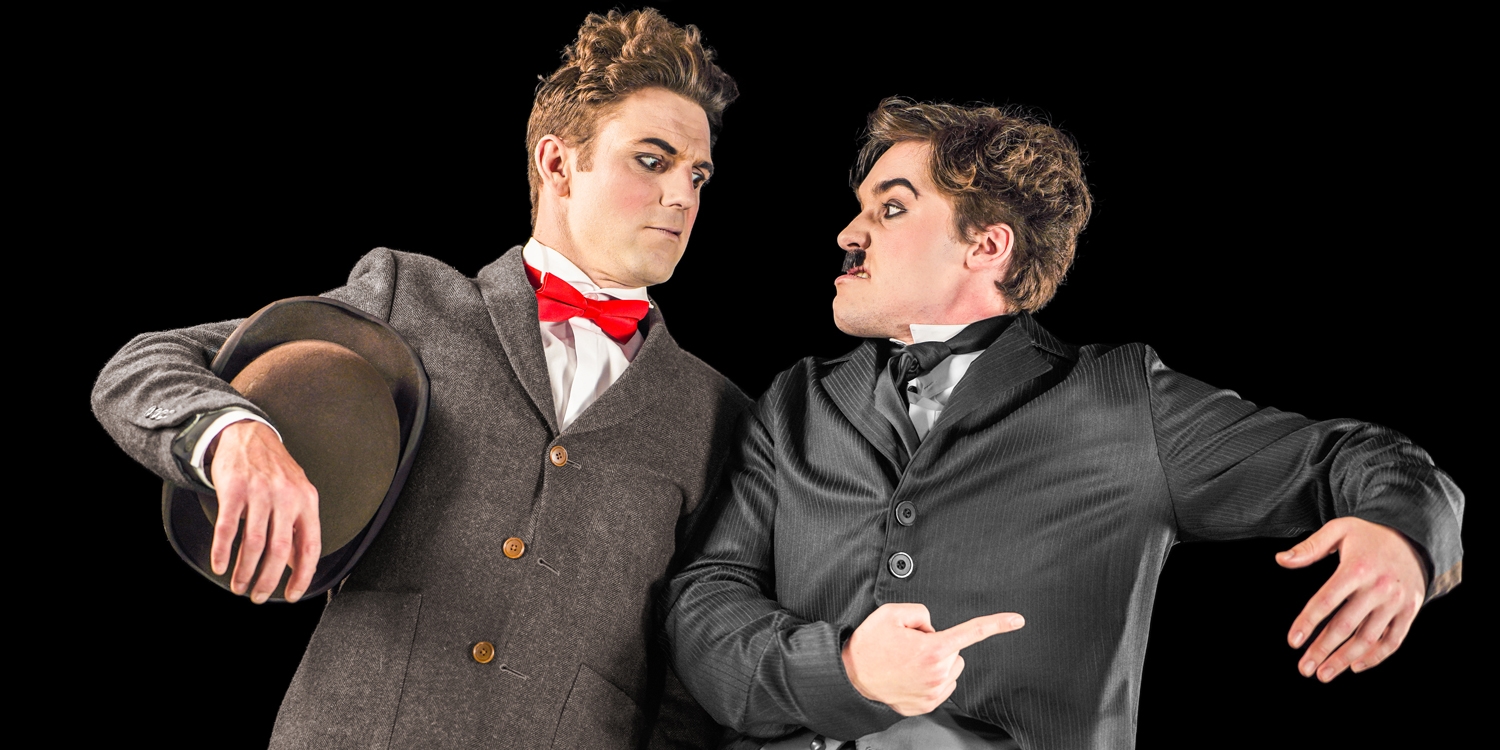 The show is fast and furious, with some superb and occasionally jaw-dropping performances from the cast, who do all their own stunts and prat falls, and indeed magic and displays of dexterity … it's simply amazing and very, very entertaining.
There's a sequence at the start of act two, where Chaplin puts together a silent movie, and three people from the audience are dragged up on stage to play the parts, as Chaplin explains what they have to do, and then they do it … all with no words at all.  I have not laughed so hard for years!  There's so many small elements which make it funny, and seeing non-actors going through the paces was superb!
If you have any interest in the subject matter, it's a story of friendship, but also pathos and sadness as Chaplin abandons his friend. But it's also a rollicking great stage experience … fun and hilarious … and of course, highly recommended.
A footnote: we saw the show on the opening night, and also present was Jon Conway, father to star Jordan, who produced, co-wrote (with Jordan) and co-directed, and also the other co-director, Michael Barrymore – yes, the TV personality and comedian – who gave a very humbling short speech at the conclusion. This show brings together all the delights of old-style music hall, with the acts, the music and the sheer variety of talent on offer … Superb!
Where: THE CAMBRIDGE THEATRE, LONDON
When: Monday evenings (to 28th August 2023)
How to get tickets: https://jonconwayproductions.com/laurel-chaplin-the-feud/
From 30 August – 2 September 2023 there are also four shows at the Blackpool Winter Gardens, also bookable at the above link