Hellraiser unleashed on UHD and a Lucio Fulci horror classic
Arrow Video's October lineup includes four Hellraiser films in all-new 4K restorations from the original camera negatives, and a limited edition UHD of Fulci's The House by the Cemetery.
The releases feature outstanding restorations in incredible UHD quality, previously unseen alternative versions, unmissable commentaries and video essays, newly-commissioned documentaries, limited edition packaging, perfect-bound books, fold-out posters, art cards and reversible sleeves.
Hellraiser Quartet of Torment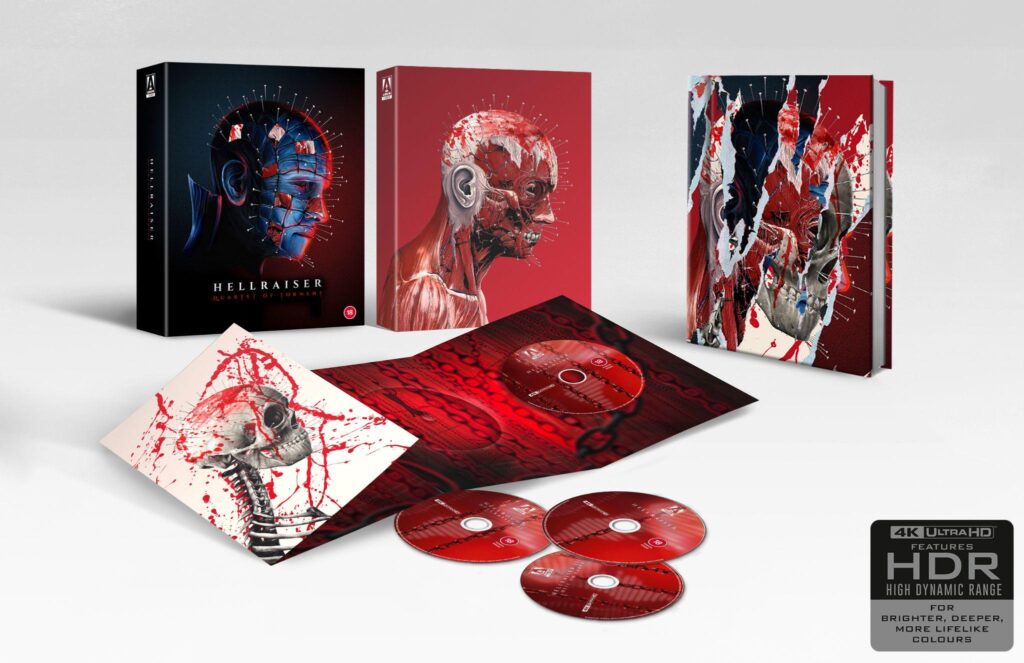 Limited Edition UHD 23 October
Arrow Store Exclusive Limited Edition UHD 23 October
Limited Edition Blu-ray 23 October
In Hellraiser (1987), hedonist Frank Cotton (Sean Chapman) thinks he has reached the limits of earthly pleasure, but a mysterious puzzle box will take him further than he can possibly imagine, opening the doors to a dominion where pain and pleasure are indivisible and summoning the Cenobites, whose experiments in the higher reaches of experience will tear Frank's soul apart. When he manages to escape, Frank returns to the world skinless and in need of help. Now his former lover Julia (Clare Higgins) must kill to make him whole again; but the Cenobites want Frank back, and there'll be hell to pay when they find him. Hellbound: Hellraiser II (1988) expands on Barker's original vision as screenwriter Peter Atkins takes Julia Cotton, her step daughter Kirsty (Ashley Laurence) and the sinister Dr. Channard (Kenneth Cranham) into the dominion of the Cenobites themselves. Hellraiser III: Hell on Earth (1992) sees Pinhead set loose on the sinful streets of New York City to create chaos with a fresh cadre of Cenobitic kin. Hellraiser: Bloodline (1996) sinks its hooks into past, present and future as it tells the story of Phillip LeMarchand the 18th century toymaker who made the Lament Configuration puzzle box; his descendent John Merchant, a 20th century architect whose most recent building bears a striking resemblance to the Lament Configuration; and Dr. Paul Merchant a 22nd century engineer and designer of The Minos, a space station which is a great deal more than it seems.
Experience the sublime agony of Hellraiser Quartet of Torment. In the 1980s, Clive Barker changed the face of horror fiction, throwing out the rules to expose new vistas of terror and beauty – and with Hellraiser, his first feature film as director, he did the same for cinema. The film was a smash hit and led to three extraordinary sequels, collected here for the first time in UHD. The set, available as a UHD Limited Edition four-disc set and a Blu-ray Limited Edition, features a wealth of extras (including the newly uncovered workprint version of Hellraiser: Bloodline), including new and archival commentaries, and a 200-page book on the films. There is also an Arrow Store Exclusive UHD release, featuring a Chatterer cover. Hell has never looked better!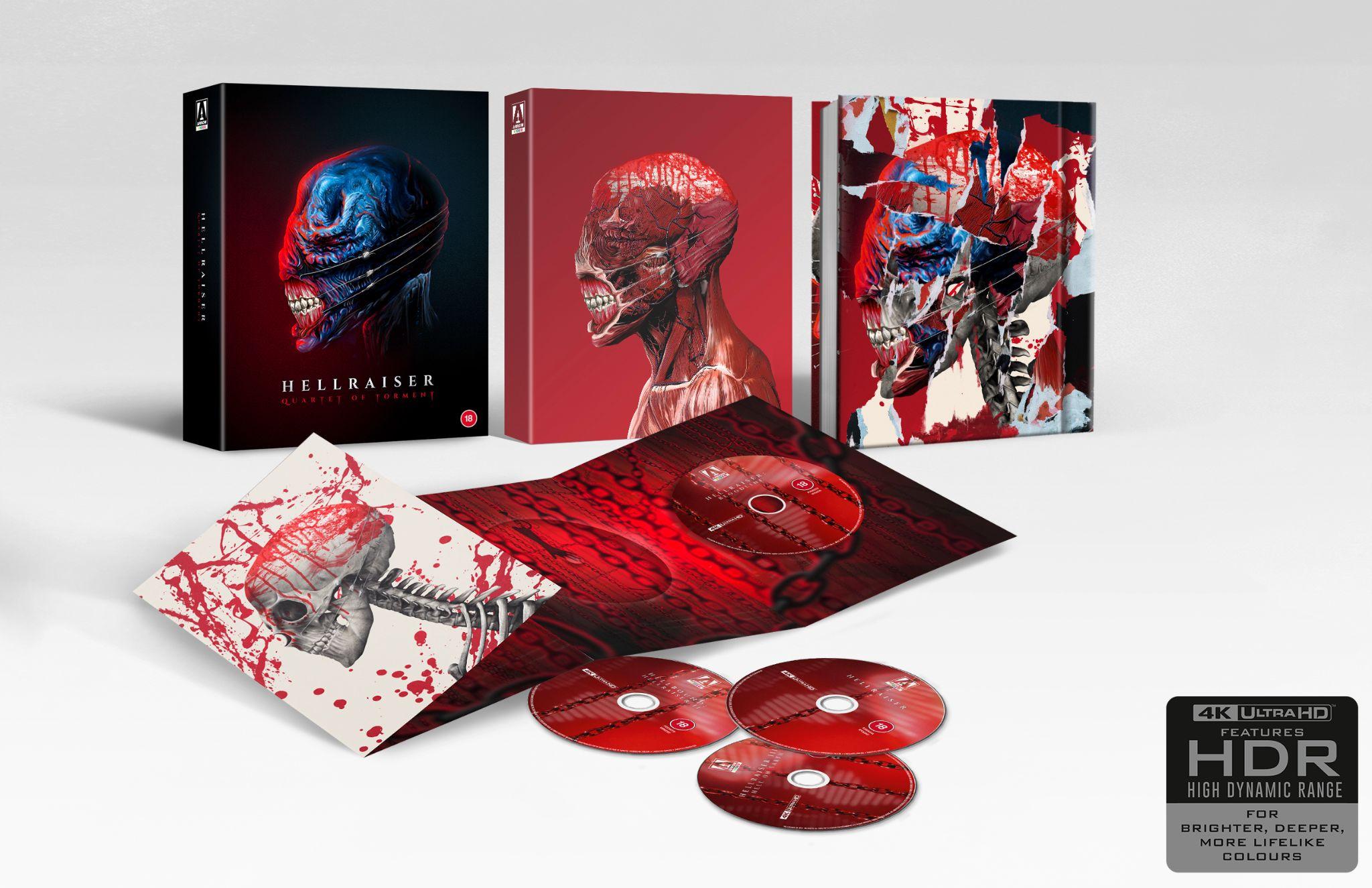 The House By The Cemetery
Limited Edition UHD 9 October
Arrow Store Exclusive Arte Originale Limited Edition UHD 9 October
Limited Edition Blu-ray 9 October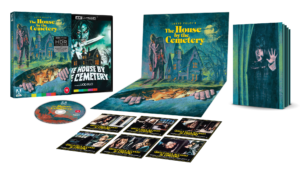 The Boyles – Lucy (Catriona MacColl, The Beyond), Norman (Paolo Malco, The New York Ripper) and their young son Bob (Giovanni Frezza, Demons) – relocate from New York City to an ageing house in rural New England. But the evil force which lurks in its basement has already claimed the previous occupant and now has its sights set on the new owners. Soon, the unsuspecting family will become only too familiar with the dark secret of the monstrous Dr Freudstein…
As the 1970s gave way to the 1980s, director Lucio Fulci (Don't Torture a Duckling, City of the Living Dead) increasingly specialised in the dark, ultraviolent horror movies which would earn him the affectionate moniker "the Godfather of Gore". The third and final instalment in his "Gates of Hell" trilogy, 1981's The House by the Cemetery showcases the malevolent maestro at his blood-drenched best. Featuring a cast of Italian horror royalty, including Catriona MacColl, The Beyond), Norman (Paolo Malco, The New York Ripper), Ania Pieroni (Tenebrae) and Dagmar Lassander (Fulci's The Black Cat), sumptuous widescreen cinematography by long-term Fulci collaborator Sergio Salvati (Zombie Flesh Eaters) and a nerve-jangling soundtrack by Walter Rizzati (1990: Bronx Warriors), this feature-packed new edition resurrects Fulci's gore-soaked classic in a stunning 4K restoration from the original camera negative. The set includes a limited edition 60-page perfect bound book featuring new writing on the film, a fold-out double-sided poster and six double-sided collector's postcards. It will also be available as an Arrow Store Exclusive Arte Originale Limited Edition UHD, and a Limited Edition Blu-ray.