With the latest of the DC Animated Universe animated movies out now, we take a look at Justice League: Warworld, the all-new, feature-length film brings together DC's "Trinity" for the first time during the Butch Lukic-helmed DC Universe Movies arc.
DC's Batman, Wonder Woman and Superman find themselves in mysterious lands and precarious circumstances with no memory of how they arrived there and only vague recollections of their true selves in Justice League: Warworld.
Until now, DC's Justice League has been a loose association of super-powered individuals. But when they are swept away to Warworld, a place of unending brutal gladiatorial combat, Batman, Superman, Wonder Woman and the others must somehow unite to form an unbeatable resistance able to lead an entire planet to freedom.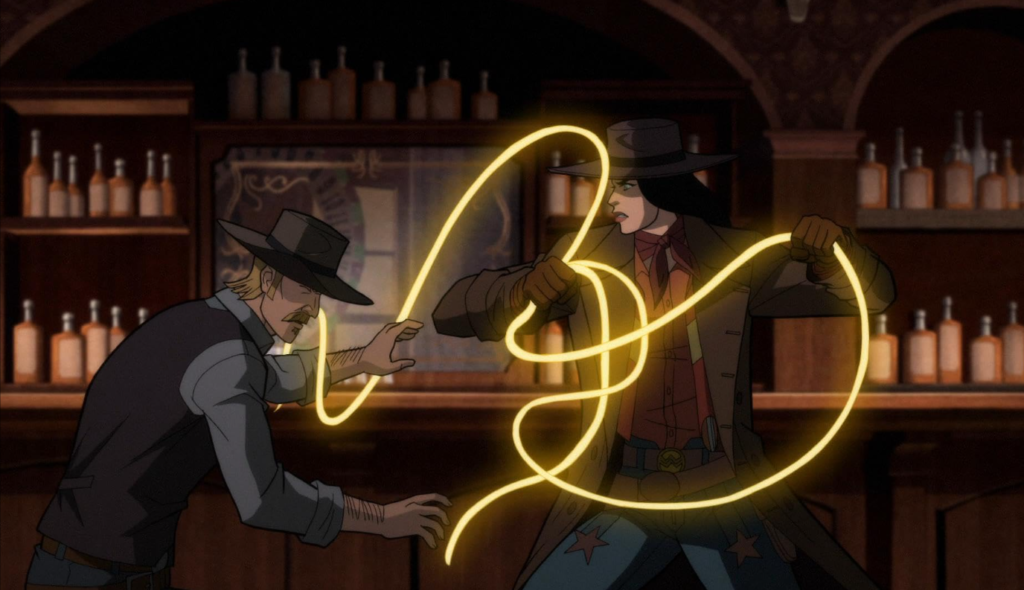 I have to say that when I first started watching this new animated movie I was a little confused about what was going on, the first character to take us on this strange journey of Warworld is Wonder Woman in what can only be described as a homage to the Spaghetti Western with a story that is reminiscent of A Fistful of Dollars.
Despite being a little strange, I have to say that this first part of the movie had me glued, yes I am a spaghetti western fan so this was right up my street. The costume design for Wonder Woman is amazing and it takes the costume we know and gives it that Western look.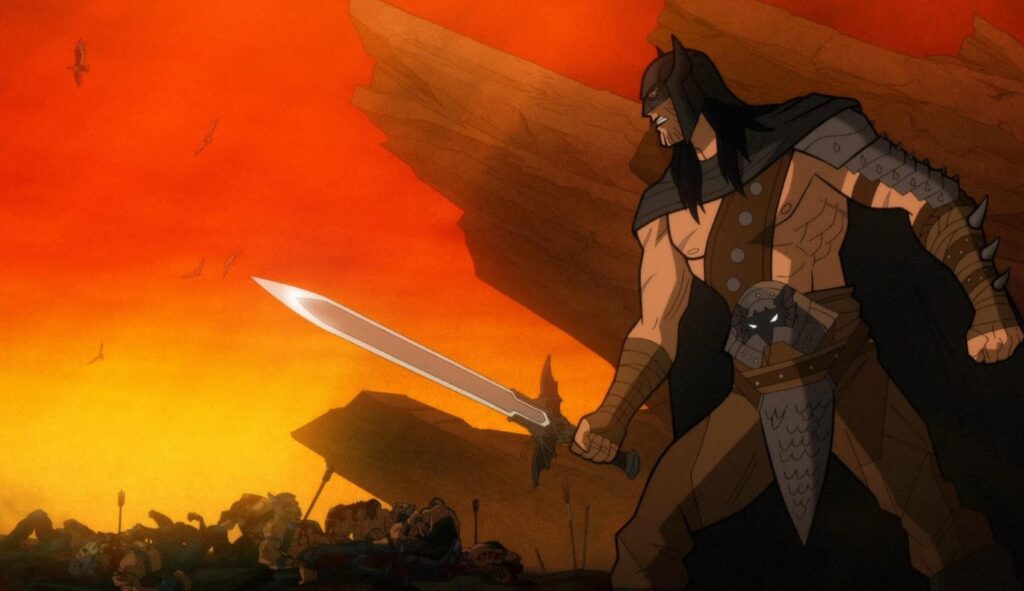 Moving on from Wonder Woman's story we go even stranger as we are taken to a Conan-style section with Batman, or should that be Batbarian, fighting to survive up against Warlord. This section yet again has you wondering what is happening and that there is so much more to the characters being put into situations that just don't look right.
I Loved what the movie has down with the Batman character in this story arc and the look of "Batbarian" certainly works for the content and as the story progresses we get closer to the truth on what is going on!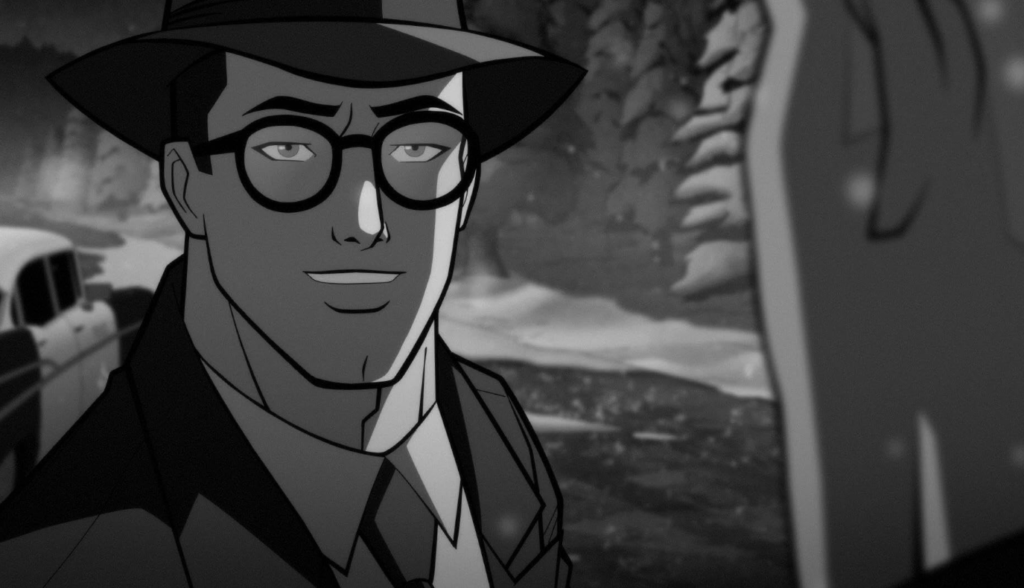 The section of the movie that I as much as the first one is when we move into the world of black and white with a 50s sci-fi genre that works so well, bringing us Agent Kent and the mystery of a crashed UFO near a dinner.
This is the story that takes into what is really going on and before we head into the last part of Justice League Warworld we are slowly but surely told where our three heroes are and what is happening.
Justice League Warworld is very different to what we have had before with the DC Animated movies, it is certainly a brave move to make from the team behind the movie to bring us something strange that slowly opens up to something with more to come, returning characters are great to see and especially Lobo, a character that you love to hate.
Reprising their roles as DC's key trio of Super Heroes are Jensen Ackles (Supernatural, The Boys, The Winchesters) as Batman and Officer Wayne, Darren Criss (The Assassination of Gianni Versace, Glee) as Superman and Agent Kent, and Stana Katic (Castle, Absentia) as Wonder Woman and Diana Prince.
Also featured in the voice cast are Ike Amadi (Mortal Kombat: Onslaught) as Martian Manhunter/J'onn J'onzz, Troy Baker (The Last of Us, BioShock Infinite) as Jonah Hex, Matt Bomer (Doom Patrol, American Horror Story) as Old Man, Roger R. Cross (Coroner, Dark Matter, 24) as Machiste, Brett Dalton (Agents of S.H.I.E.L.D., Chicago Fire) as Bat Lash, John DiMaggio (Futurama, The Super Mario Bros. Movie) as Lobo, Robin Atkin Downes (Batman: The Long Halloween, The Strain) as Mongul, Frank Grillo (Captain America: The Winter Soldier, Billions) as Agent Faraday, Rachel Kimsey (Justice League Action, The Young and the Restless) as Mariah Romanova, Damian O'Hare (Pirates of the Caribbean 1 & 2) as Deimos, and Teddy Sears (The Flash, Chicago Fire) as Warlord. Additional voices include Trevor Devall (F is for Family, Guardians of the Galaxy), David Lodge (Naruto: Shippuden) and Kari Wahlgren (Rick and Morty, DC Super Hero Girls).
Jeff Wamester (Legion of Super-Heroes) directs Justice League: Warworld from a script by a trio of screenwriters – Jeremy Adams (Supernatural), Ernie Altbacker (Justice League Dark: Apocalypse War) and Josie Campbell (She-Ra and the Princesses of Power). Producers are Jim Krieg (The Death and Return of Superman) and Kimberly S. Moreau (Batman: The Doom That Came To Gotham). Executive Producer is Michael Uslan. Butch Lukic (Batman: The Long Halloween) and Sam Register is Executive Producer.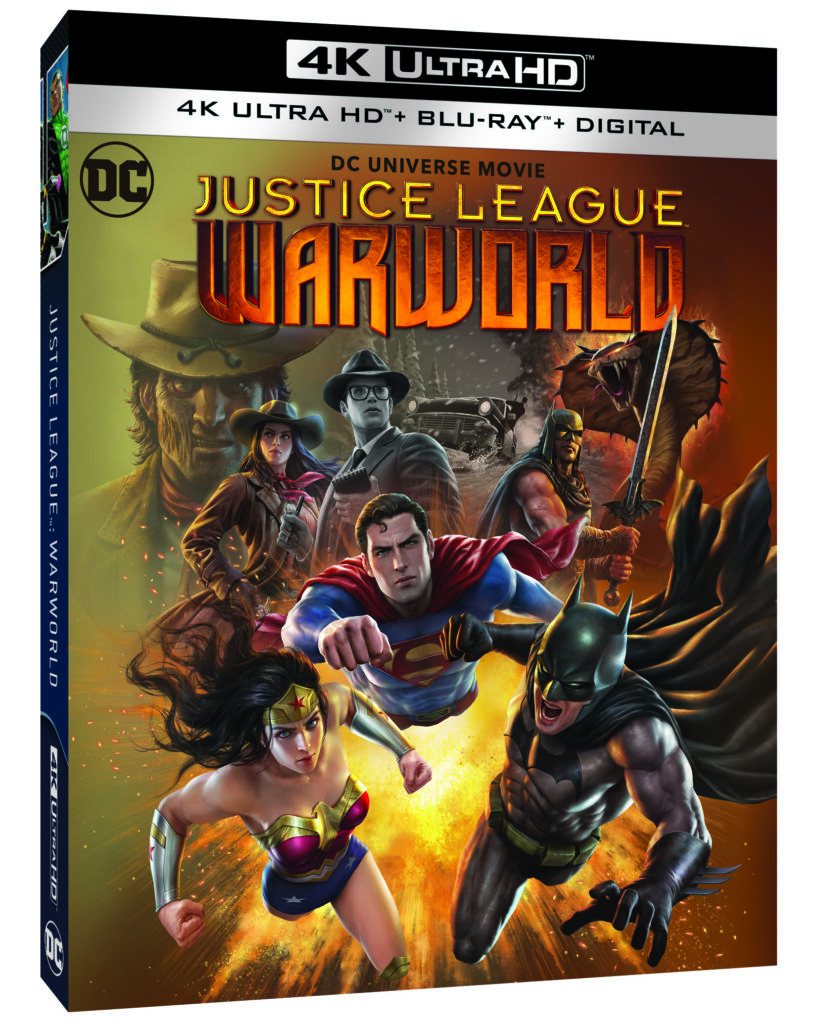 SPECIAL FEATURES INCLUDE:
Illusions on Warworld (New Featurette) – Go behind the scenes and inside the process of designing and creating three distinct genres for the Justice League to inhabit on Warworld.
The Heroic, the Horrible and the Hideous (New Featurette) – Dive deep into the origins and histories of the key players on Warworld and learn how the filmmakers brought them to life.