Arrow Video's November lineup includes the UHD debut of the fantastic horror comedy Tremors 2: Aftershocks and Inside the Mind of Coffin Joe, with all-new restorations of bizarre and incredible films of legendary Brazilian horror auteur José Mojica Marins.
The releases feature brand new restorations, in-depth commentaries and video essays, fascinating documentaries, limited edition packaging, booklets, fold-out posters, art cards and reversible sleeves.
First in November, Tremors 2: Aftershocks – six years after Tremors first tunnelled its way into audiences' affections, the original creative team returned for an equally edge-of-your-seat sequel that would pave the way for a long-running franchise by adding some new twists to everyone's favourite slimy subterranean slitherers! Starring Fred Ward, Helen Shaver and Christopher Gartin, the film reprises the same mix of nail-biting horror and rib-tickling humour that made the original film so beloved. The brand new 4K restoration makes this creature feature pop like never before, on Limited Edition UHD, as well as an Arrow Store Exclusive UHD Limited Edition, and Limited Edition Blu-ray which all come with a booklet, posters and highly-desirable packaging.
November also sees the release of the unmissable box set Inside the Mind of Coffin Joe. With his iconic long fingernails, top hat and cape, Zé do Caixão (Coffin Joe) was the creation of Brazilian filmmaker José Mojica Marins, who wrote, directed and starred in a series of outrageous movies from 1964 to 2008. Collected here are At Midnight I'll Take Your Soul, This Night I'll Possess Your Corpse, The Strange World of Coffin Joe, The Awakening of the Beast, The End of Man, When the Gods Fall Asleep, The Strange Hostel of Naked Pleasures, Hellish Flesh, Hallucinations of a Deranged Mind and Embodiment of Evil. Newly restored from the best available elements and packed with new and archival extras, Inside the Mind of Coffin Joe is a love letter to one of the great iconoclasts of horror, who forged his films in the face of military dictatorship and religious censorship to become Brazil's national Boogeyman. This lavish and lurid six-disc collection includes commentaries, interviews, alternative film titles and endings, an illustrated collector's book featuring new writing, reversible sleeves with newly commissioned artwork, a double-sided fold-out poster and 12 postcard-sized double-sided art cards.
New Releases
Tremors 2: Aftershocks
Limited Edition 4K UHD / Blu-ray  27 November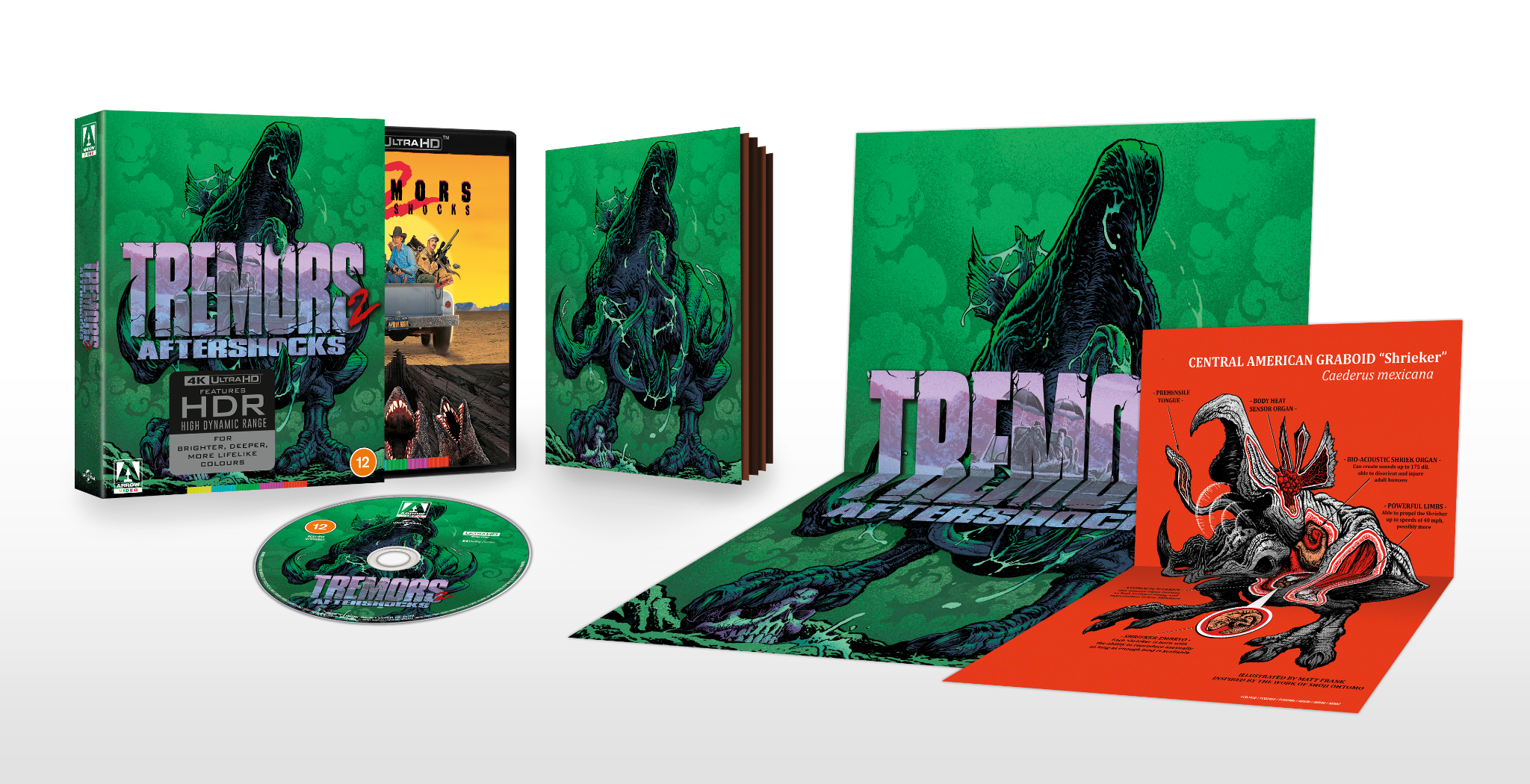 Arrow Store Exclusive Limited Edition 4K UHD 27 November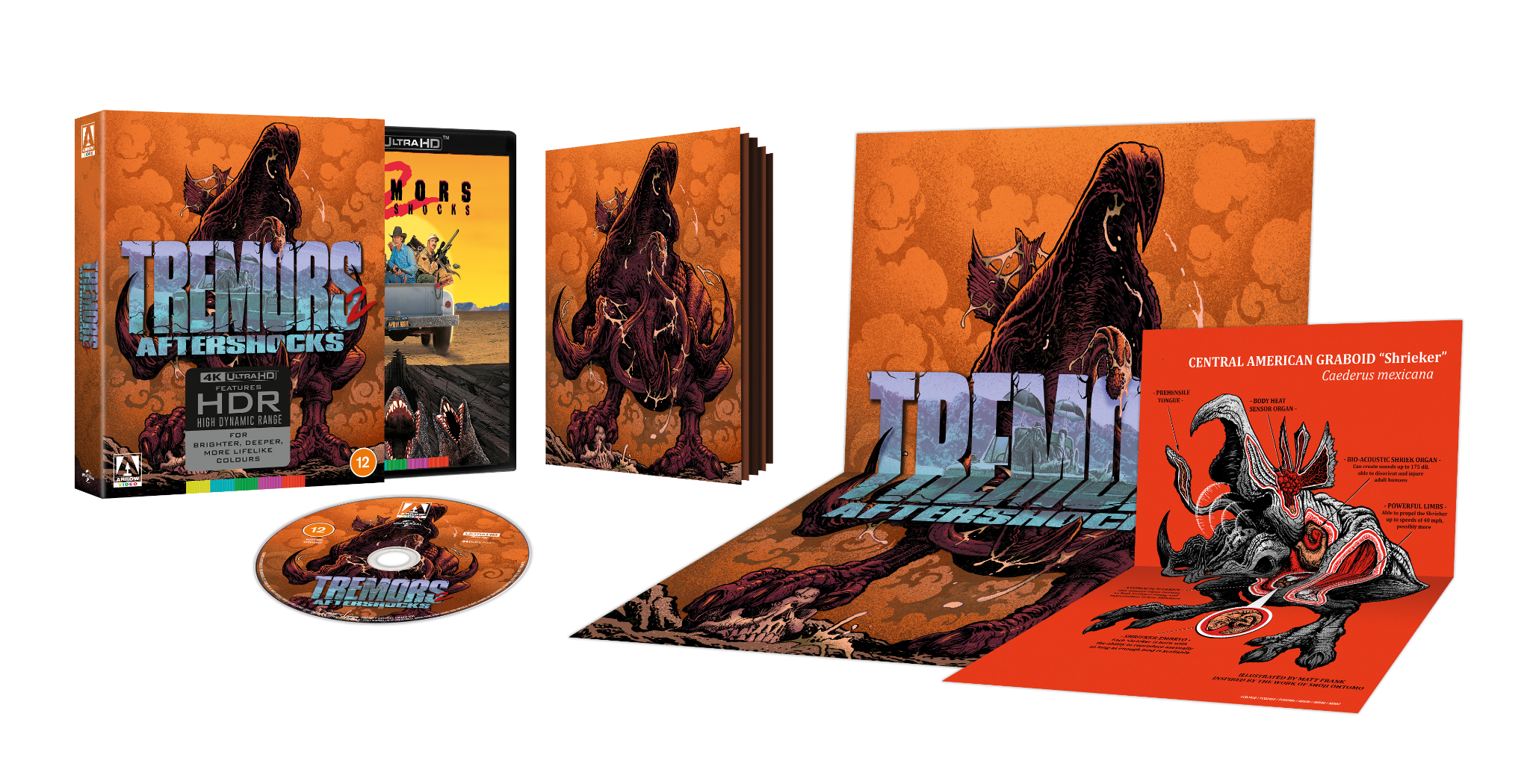 Earl Bassett (Fred Ward)'s celebrity after defeating the Graboid attack against the town of Perfection has proved short-lived, until he's recruited by a Mexican oil company whose workers have found more than they bargained for under the soil. With the help of a scientist (Helen Shaver) and a new sidekick (Christopher Gartin) – not to mention the return of his gun-toting survivalist pal Burt Gummer (Michael Gross) – Earl is about to learn the Graboids have evolved and are deadlier than ever!
Inside the Mind of Coffin Joe
Limited Edition Blu-ray 27th November
An unholy undertaker in search of the perfect woman to propagate his bloodline, Zé do Caixão (Coffin Joe) made his screen debut with the first Brazilian-produced horror film, At Midnight I'll Take Your Soul. Three years later, his quest would continue in This Night I'll Possess Your Corpse, with Zé embarking on an even more brutal campaign of terror, aided and abetted by his hunchbacked assistant. The Strange World of Coffin Joe, meanwhile, is an anthology of three short horror films featuring a strange dollmaker, a necrophiliac balloon seller with a foot fetish, and a psychotic professor involved in sadistic rituals. Sex, perversion and sadism abound in The Awakening of the Beast as a psychiatrist experiments on four volunteers with LSD in this surreal examination of 60s drug culture.
Diverging from horror toward satirical black comedy, The End of Man sees a naked stranger emerge from the sea to perform miracles in a nearby town and become a modern messiah whose deeds will affect the whole world. Rarely-seen sequel When the Gods Fall Asleep continues this blackly comic trajectory as our messianic cult figure sets out to right wrongs, expose corruption and end social unrest. The Strange Hostel of Naked Pleasures brings Zé do Caixão back to the screen as the proprietor of an isolated guest house where, on a dark and stormy night, an eclectic group of strangers seek shelter. In Hellish Flesh, Dr George Medeiros is a brilliant scientist, but a neglectful husband whose wife takes a lover and plans to murder George for his fortune, but the doctor is only disfigured and returns with a plan for revenge! Meanwhile, in Hallucinations of a Deranged Mind, the colleagues of a psychiatric doctor driven to insanity by nightmare visions of Zé do Caixão enlist the character's creator, José Mojica Marins, to convince the patient that Zé does not exist – but all is not as it seems! Finally, in Embodiment of Evil, Marins returns to the role that made his name one last time, as Zé do Caixão emerges onto the streets of São Paulo in 2008, haunted by ghostly visions and the spirits of past victims, and still in pursuit of the woman who can give him the perfect child.