At last it can be told. League of Monsters, the new anthology published by Mechanoid Press features stories by James Palmer, Teel James Glenn, Bobby Nash, Russell Nohelty, Jessica Nettles, and Adrian G Delgado is now available in ebook, print, and hardcover. Cover art by the invincible Mark Maddox, with cover design by the incredible Jeffrey Hayes.
It Takes Monsters to Fight Monsters!
Count Dracula. Frankenstein's Monster. The Werewolf. The Gill Creature. You've seen various versions of them countless times. But never like this!
It is the 1950s, and a cadre of Nazis known as the Last Reich are plotting to remake the world in their own horrible image.
Moira Harker, the great-great-granddaughter of Mina Harker and the last living member of a secret group of monster hunters known as the Order of Van Helsing, has brought together history's most frightening creatures to prevent even greater monsters from taking over the world.
Within these pages you'll meet: Dracula, Frankenstein's monster, a reluctant werewolf, and a gill creature and his beautiful telepathic handler.
These monsters have joined forces and now travel the globe saving the world from an even greater threat.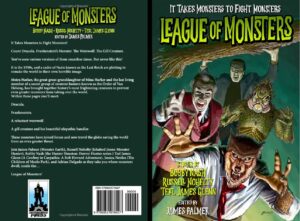 Join James Palmer (Monster Earth), Russell Nohelty (Ichabod Jones: Monster Hunter), Bobby Nash (the Hunter Houston: Horror Hunter series ) Teel James Glenn (A Cowboy in Carpathia: A Bob Howard Adventure), Jessica Nettles (The Children of Menlo Park), and Adrian Delgado as they take you where monsters dwell, inside the … League of Monsters!
Available in hardcover, paperback, and ebook at Amazon worldwide.
Don't be afraid of the dark.