What started back in 2014 with a movie that was something new and exciting has now brought us even more action and superbly choreographed fight scenes in John Wick Chapter 4 as Keanu Reeves returns in the titular character that seems almost indestructible!
John Wick (Keanu Reeves) uncovers a path to defeating The High Table. But before he can earn his freedom, Wick must face off against a new enemy with powerful alliances across the globe and forces that turn old friends into foes.
This 169 min all-out action movie has certainly taken the John Wick franchise that step further into the JW Universe, John Wick Chapter 4 ramps up the action and the fight sequences so much so that some of the fights last for ages and although some are long they are still amazing to watch as they become more of a macabre dance to the death.
John Wick (Reeves) is still trying to find a way out of this life that he has and the Marquis (Bill Skarsgård) offers him the chance to finally leave the life of violence behind him, but nothing is that simple in the world of The High Table and although John is willing to risk the chance of life or death, the Marquis has other ideas to finally get rid of the Baba Yaga!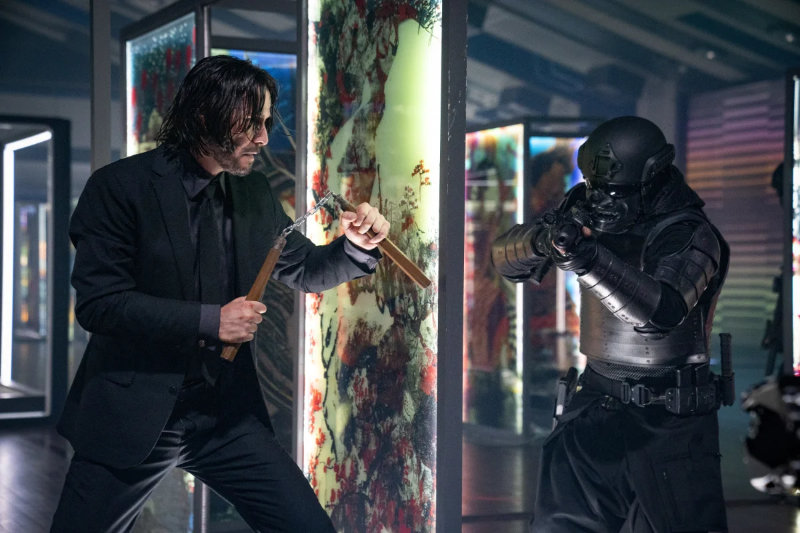 Helping Wick along the way and returning to the franchise again is Laurence Fishburne, as the Bowery King and Ian McShane as Winston, the owner of the New York Continental Hotel, which is frequented by the world's most accomplished killers; and Lance Reddick, as Charon, the hotel's loyal and distinguished concierge.
Director Chad Stahelski has certainly ramped up things for John Wick Chapter 4 and has taken the franchise in a new direction, Chad has said, "We continue to uncover new and sometimes unexpected facets of John Wick, and introduce many new characters, who have some surprising connections to Wick. In addition to the action, there is brotherhood and hope, and we explore some emotional threads that were only hinted at in the previous films."
I love that John Wick Chapter 4 moves out of New York for the latest chapter and we not only head to Jordan, Japan, Berlin, and Paris but we also get to see another Continental and an introduction to Hiroyuki Sanada as Shimazu who runs the Japan Continental, look out for some amazing fight scenes with Sannda at the location, also we get to see Donnie Yen as the blind character Caine, who brings us some excellent fight sequences with the use of some rather interesting items to help him during his kitchen fight!
I loved seeing Clancy Brown in John Wick Chapter 4, although I would love to have seen him take up a sword to harken back to those Kurgan days in the Highlander days. Along with Brown, we are also introduced to a Tracker (Shamier Anderson) who is accompanied by a German Shephard to help with his tracking of Wick.
One character that did amaze me was Killa who was brilliantly played by Scott Adkins, donning a fat suit and being very much of a "Kingpin" style character I wasn't expecting the character to go from sitting behind a card table to a brilliantly choreographed fight sequence with Keanu Reeves that had me on the edge of my seat.
Being a fan of the John Wick movies since that first one back in 2014, it's been a great ride seeing all the movies on the big screen and to be honest that's the best way to see them. Jon Wick Chapter 4 is no exception, the sound mix throughout the movie is stunning as all the speakers are used to take you into the world of John Wick.
The cinematography for this new movie is also stunning to look at, the lighting, shading and colourising look amazing and for me, there is a stand-out scene that just took my breath away. I won't give too much away but in a certain part of the film the camera goes from a normal horizontal view to an over-the-top view and it just looks and works perfectly for what is happening.
Sadly actor Lance Reddick who plays Charon passed away before the movie was released and I did find it moving to see him on the screen as the character for the last time, but what a movie franchise to be part of.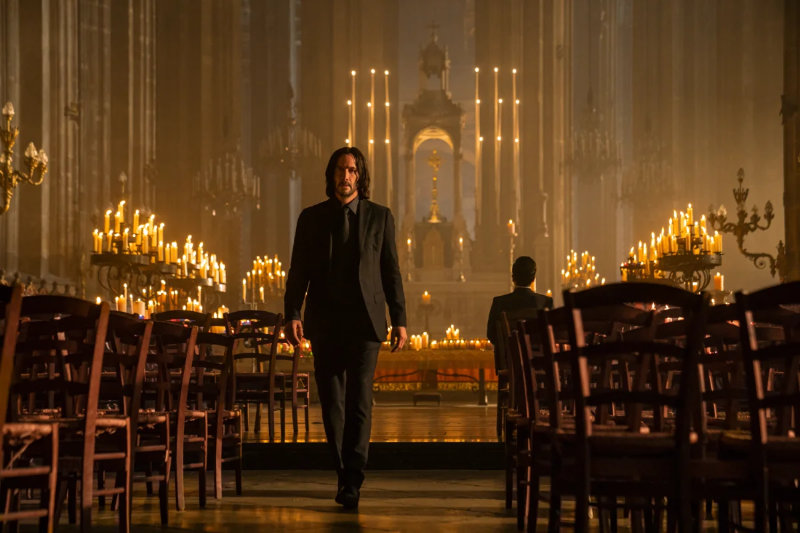 Over the years the John Wick movies seemed to have got better and better, for me John Wick Chapter 4 is the best one, its long runtime didn't seem to drag, the music was great, the action is brilliant to watch and the story work very well for the John Wick franchise.
Now the big question is what next for John Wick? Well, that's a major question. Chapter 5 was supposed to be shot back to back with Chapter 4 but this didn't happen and after the outcome of this movie I'm not sure where Chapter 5 could take us, but John Wick Chapter 4 features an end credits scene that could possibly open up something of a new route for Chapter 5, who knows.
I'm hoping that John Wick Chapter 5 will be coming along, but before that, we have the three-part mini-series about the Continental coming to Peacock which is set in the 1970s, so I can't wait to check that out.
If you are a fan of John Wick then I recommend you check out John Wick Chapter 4 on the big screen and the bigger the better.