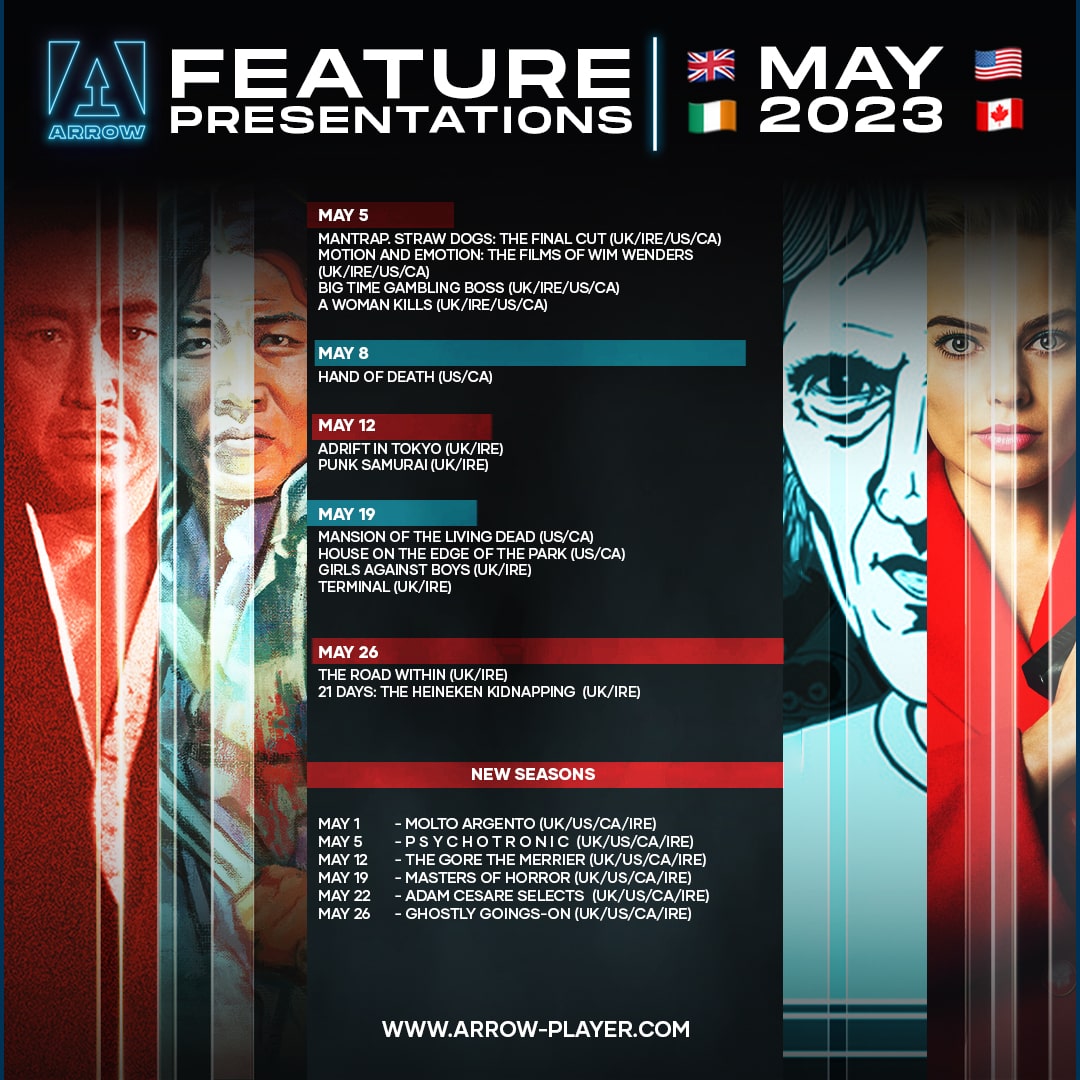 IN MAY, ARROW PRESENTS A MARGOT ROBBIE CRIME THRILLER, A YAKUZA CLASSIC, REDISCOVERS A KILLER GEM FROM FRANCE, AND MORE!
WATCH THE TRAILER HERE
Key highlights this May on the essential, alternative streaming service ARROW includes the superb crime thriller TERMINAL, starring Margot Robbie, Simon Pegg and Mike Myers, rediscovered controversial cult sensation A WOMAN KILLS, yakuza masterwork BIG TIME GAMBLING BOSS, as well as much more…
In May, ARROW are proud to present TERMINAL, a dazzling crime neo-noir with an A-list cast. In the dark heart of a sprawling, anonymous city, TERMINAL follows the twisting tales of two assassins carrying out a sinister mission (Max Irons and Dexter Fletcher), a teacher battling a fatal illness (Simon Pegg), an enigmatic janitor (Mike Myers) and a curious waitress leading a dangerous double life (Margot Robbie). Murderous consequences unravel in the dead of night as their lives all intertwine at the hands of a mysterious criminal mastermind hell-bent on revenge, in this visually ravishing and unmissable treat.
May sees the arrival of the controversial French crime film A WOMAN KILLS. Filmed in 1968, Jean-Denis Bonan's film hadn't been seen for 45 years until a new 2K restoration brought this unique and disturbing gem back to life. Now ARROW viewers can finally experience this utterly singular, new wave-influenced serial killer film that presents its narrative in an almost true crime approach.
Also showing in May, one of the all-time classics of the yakuza genre, BIG TIME GAMBLING BOSS, an atmospheric tale of gangland intrigue written by Kazuo Kasahara (Battles Without Honour and Humanity) and starring Tomisaburō Wakayama, (Lone Wolf and Cub, The Bounty Hunter Trilogy) and genre legend Kōji Tsuruta. Taxi Driver writer Paul Schrader called it the richest and most complex film of its type, while novelist Yukio Mishima hailed it as a masterpiece… and now it's your chance to see it on ARROW.
Seasons in May include Molto Argento, a killer collection of murderous masterpieces from maestro Dario Argento, including Deep Red, Tenebrae and The Bird with the Crystal Plumage; splatterrific fun in The Gore The Merrier, featuring all of ARROW's absolutely artery-opening, guts-spilling, bodies-bisecting films, including Microwave Massacre, Island of Death, and Inferno of Torture; and P S Y C H O T R O N I C, a collection of far-out films all listed in Michael Weldon's cult guide to the wildest movies ever made.
ALSO SHOWING: In-depth documentaries on Sam Peckinpah's Straw Dogs and Wim Wenders, Rutger Hauer in 21 Days: The Heineken Kidnapping, Satoshi Miki's Adrift in Tokyo, wild fantasy adventure Punk Samurai, and more…
MAY RELEASE CALENDAR
New Titles – From May 5
Mantrap. Straw Dogs: The Final Cut
Motion and Emotion: The Films of Wim Wenders
Big Time Gambling Boss
A Woman Kills
New Titles – From May 12
Adrift in Tokyo
Punk Samurai
From May 19
Girls Against Boys
Terminal
From May 26
The Road Within
21 Days: The Heineken Kidnapping
ARROW is now available on Xbox
Where to get it
The Art of Cult. Head to ARROW and start your 30-day free trial. Available on the following Apps/devices: Xbox, Roku (all Roku sticks, boxes, devices, etc), Apple TV; iOS devices, Android TV and mobile devices, Fire TV (all Amazon Fire TV Sticks, boxes, etc), and on all web browsers at www.ARROW-Player.com.
Subscriptions are available for £4.99 monthly or £49.99 annually