One of the UK underground's most fascinating groups, the sci-fi extreme metal quintet, Wallowing, are celebrating the release of their mighty new album Earth Reaper, out today 28th April via Church Road Records.
Order and stream the album here: https://bfan.link/earth-reaper
The band comment: "Earth Reaper is our magnum opus. Harnessing the influence of retro-prog royalty such as Rush and Camel, we tried to take the listener on a heavy as hell journey through the wastelands of a dystopian planet, implementing musical motifs and rich soundscapes to mirror the lyrics and story behind the track & at points calling back and building upon story beats and sounds established on the first half of the record. This is not only our heaviest piece of music to date but also undoubtedly and unapologetically Sci-fi through and through.
"EARTH REAPER IS NIGH."
Wallowing have also announced their Earth Reaper tour, with support from Still.
Tickets: https://lnk.to/EARTHREAPER-UK2023
Dates:
May 11: Birmingham Asylum 2
May 12: Newcastle Bobiks
May 13: Glasgow Garage Attic
May 14: Hull Adelphi
May 15: Leeds Boom
May 16: Bristol The Gryphon
May 17: London New Cross Inn
May 18: Leicester Soundhouse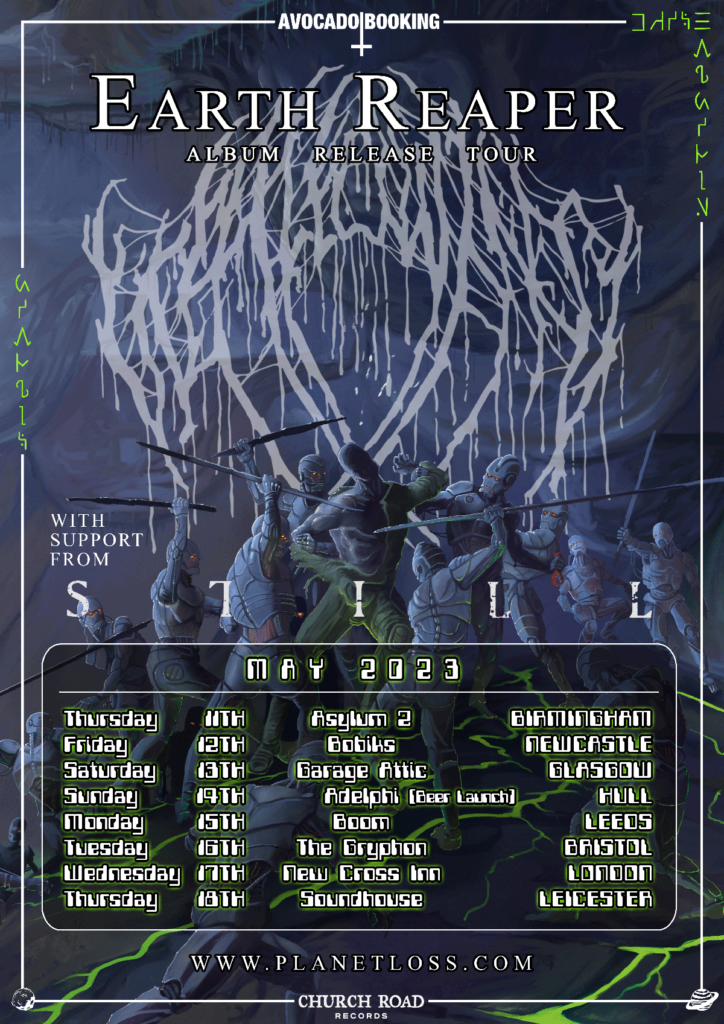 Labelled a must-see band in the flesh, the faceless Wallowing are as much a conceptual multimedia art project as a band. Known for their intense and atmospheric live show, endless smoke machine, duel lasers, all-black space suits, Wallowing have also released hand-crafted action figures, trading cards, an alternate reality game, and comic book.
Wallowing dive further into their sci-fi reality with the new video 'Flesh and Steel', the opening chapter to their second concept album, Earth Reaper. A sonic introduction to the band, the album, and one of the story's main characters; a mysterious outcast living amongst a group of unlikely and unearthly beings. Yearning to uncover the truth behind her own existence, the outcast makes a risky attempt to break free from her company and face the reality of the dead planet they reside on.
Continuing the themes on Wallowing's acclaimed debut Planet Loss (2019), Earth Reaper sees the listener diving into a bleak universe plagued by evil, oppressive rule.
A tale of growth and discovery, an epic journey to uncover the real truth behind the dying planet, Earth Reaper is a tale of hope born from despair, influenced by real-world topics including the current political climate, racism and classism.
Written in two halves, the first six tracks of the album, approximately 22 minutes, is the prologue to the second half, the mighty title track 'Earth Reaper', itself 22 minutes. Instrumental and lyric motifs represent various characters and locations, seamlessly weaved into the endlessly-evolving doom-laden narrative. Needless to say, Earth Reaper is an intense experience – a heavily atmospheric and lovingly-detailed sonic journey akin to the most epic of film scores which have inspired it.
Such an immersive approach has seen Wallowing garner a strong following of dedicated fans, eager to escape. Finding their feet in the expanded metal and sci-fi communities throughout the COVID pandemic, the group have since toured the UK twice, performed internationally for the first time, released a split EP and re-released their debut in Asia via Gutless Productions.
In their time as a group, Wallowing have performed at Desertfest, Dreadfest, alongside Black Tongue and Wiegedood, and garnered early praise from Kerrang!, Clash, and Vice. Wallowing are also the first metal group to perform in a Waterstone's.