Out 15th May from STUDIOCANAL
The stunning brand-new restoration of the thrilling 2001 cult classic BROTHERHOOD OF THE WOLF Director's Cut by Christophe Gans arrives on 4K UHD, Blu-ray & DVD 15th May from STUDIOCANAL. The 2-disc Blu-ray includes deleted scenes and a host of extras, while the 4-disc 4K UHD release also includes the theatrical cut and eight featurettes.
WATCH THE NEW TRAILER HERE
Lavishly filmed and thrillingly gripping, Christophe Gans' film is an irresistible mix of period drama, blood-pumping action and chilling horror. With a fantastic cast including Samuel Le Bihan (Braquo), Jérémie Renier (In Bruges), Vincent Cassel (La Haine), Monica Bellucci (Irreversible), it also features a breakout performance from John Wick 3 martial arts star Mark Dacascos. The film has costume design by Dominic Borg (which won him the 2002 César), a sumptuous score by Joseph LoDuca (Emmy winner for Xena: Warrior Princess), and gorgeous cinematography by Dan Lausten (Oscar-nominated for The Shape of Water).
Director Gans went on to make the 2006 video game adaptation Silent Hill (which he is currently working on a sequel to), and a live action version of Beauty and the Beast in 2014 (starring Vincent Cassel). Cassel is one of France's biggest movie stars and has appeared in over 100 films, including Irreversible, Black Swan and Eastern Promises.
SYNOPSIS: During the reign of Louis XV an isolated district of south-central France is haunted by the "Beast of Gévaudan" which has savagely killed over 100 people, mostly women and children. As panic sweeps across the region, the King sends his finest military minds, the scientist and adventurer Grégoire de Fronsac and his martial-arts-trained Iroquois blood brother Mani to flush out the Beast and kill it…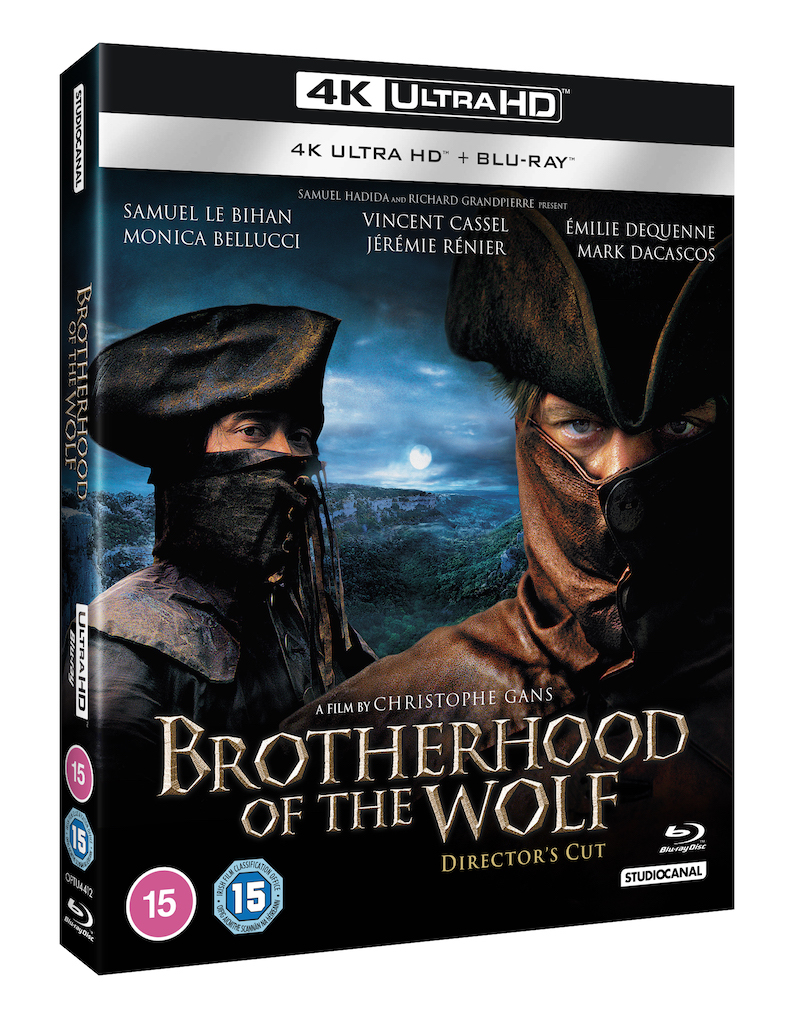 —