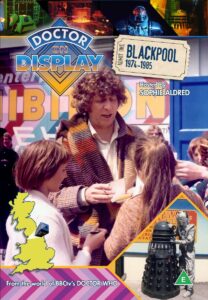 In the early 1970s, the BBC decided to launch a series of exhibitions featuring monsters and props from DOCTOR WHO.
Over the next three decades, untold thousands of children (and adults too!) were thrilled by a mix of innovative, exciting and stunning extravaganzas!
For many fans, these exhibitions were their first and only real chance to get close-up to their favourite TV programme … and the memories they share in this innovative documentary series are bound together by interviews with experts and people who actually worked at them!
Here's your chance to experience the DOCTOR ON DISPLAY!
A few days after the very first DOCTOR WHO exhibition opened at Longleat in 1974, Blackpool also got its very own showpiece to celebrate everything Time Lord! It soon sealed its place as the fans favourite and has gone down in history as the iconic "classic" DOCTOR WHO exhibition. One that became a "must see" and regular destination for fans!
Come along with presenter SOPHIE ALDRED and find out why! What was so special about this particular exhibition, located in a damp basement on the Golden Mile!
Available as DVD, Download and Stream from: timetraveltv.com/programme/568