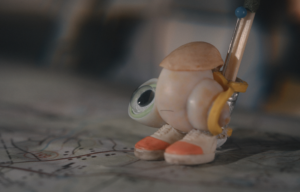 AWARD-NOMINATED ANIMATED GEM COMES TO DVD AND BLU-RAY IN JUNE
9 May 2023, London UK – Mediumrare Entertainment announces the animated comedy MARCEL THE SHELL WITH SHOES ON is being released on DVD and Blu-ray on 26th June 2023.
The BAFTA and Oscar-nominated film, directed by Dean Fleischer Camp, is the story of a plucky seashell called Marcel and his attempt to reunite with his family. Based on the award-winning 2010 short film that went viral online, Jenny Slate (Everything Everywhere All At Once) reprises her role as the voice of Marcel, with Isabella Rossellini (Incredibles 2), Andy Richter (American Dad!) and Leslie Stahl (60 Minutes) also featuring.
Charming, beautifully animated and surprisingly poignant, MARCEL THE SHELL WITH SHOES ON is an inventive and heartwarming tale about coming out of your shell and embracing life. It's a film that, as The Hollywood Reporter says, has "much to offer when it comes to lessons and laughs".
SYNOPSIS: When struggling filmmaker Dean (writer-director Dean Fleischer Camp) moves into an Airbnb, he quickly discovers that he is not alone. Marcel (Jenny Slate), an adorable one-inch-tall shell, already lives there with his grandmother Connie (Isabella Rossellini) and their pet lint, Alan. Once part of a sprawling community of shells, Marcel and Connie live alone as the sole survivors of a mysterious tragedy. Taken with his unlikely new friend, Dean starts filming Marcel and his grandmother, igniting a meteoric rise to internet fame that changes their lives forever. But will Marcel's new found sense of possibility and a throng of superfans be enough to track down his long-lost family?
Soulful, whimsical and intricately crafted, MARCEL THE SHELL WITH SHOES ON is the feature adaptation of Dean Fleischer Camp and Jenny Slate's popular series of short films and New York Times-bestselling books, and marks the big screen debut of the internet's most beloved mollusc.